Epoxy flooring is a new type of flooring used as a suitable alternative to ceramic and marble floors. They are also known as 3D floors. They are flooring types that give a feeling of extreme depth. When you look at them, you feel as if the floors are stereoscopic while you are inside, next we will know more about it with OSISCO.
Epoxy is a material similar to rubber or acrylic, but liquid and transparent. After using it and pouring it, it turns into a solid material, and its shape becomes transparent and rigid. It can show anything placed under it. It can offer perfect decorations.
Epoxy meaning
Self-leveling or leveling Epoxy flooring is used to apply over cracked, damaged, old, or even new concrete floors to make it durable, smooth, and with a flat textured surface. Self-leveling epoxy floors give a sleek, glossy look. They also come in different colors. It is suitable for commercial garages, kitchens, sports facilities, manufacturing buildings, showrooms, and warehouses.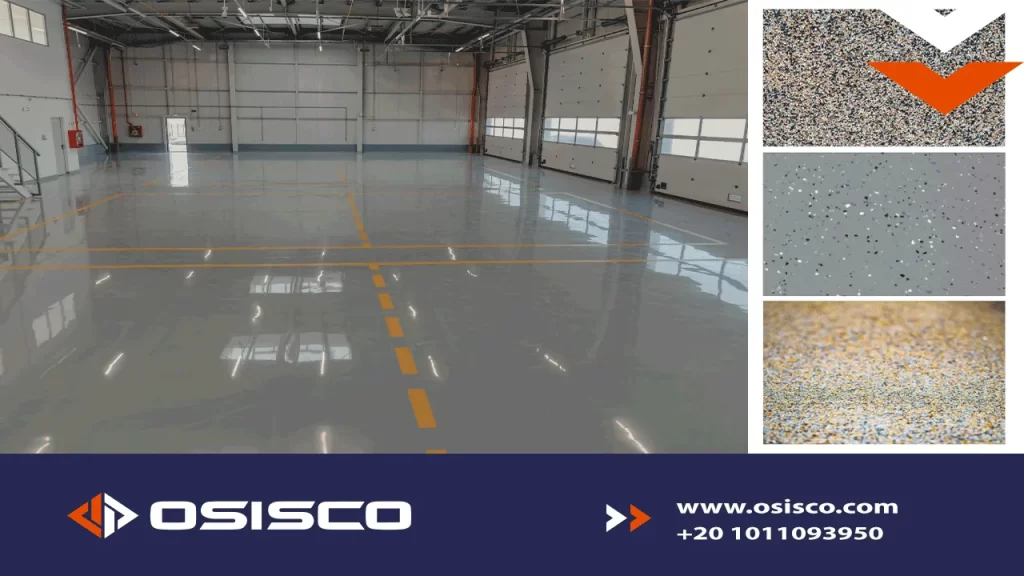 Self-leveling epoxy gets applied to concrete floors to create a durable, low-maintenance floor surface. Specifically, self-leveling epoxy flooring gets poured into old, cracked, or damaged concrete floors to create a smooth, seamless surface as the epoxy application spreads to fill cracks or chips in concrete floors.
You can know more with OSISCO Epoxy Systems Service.
You can use Self-leveling epoxy floors in several applications, including; commercial, industrial, and residential applications for a wide range of industries and buildings, including;
Manufacturing facilities
Warehouses
Showrooms
Commercial Garages
Commercial kitchens
Hospitals
Hangars
Sports Flooring
The benefits of Self-Leveling Epoxy Flooring are ideal for situations with a high level of aesthetic appeal where there is wear resistance and durability. Epoxy floors are highly durable and wearable with several benefits, making them ideal for everything from commercial and industrial applications to residential applications.
Here are some of the main benefits of choosing self-leveling epoxy floors:
Chemical and heat resistance

Slip Resistant, Even When Wet – High gloss, attractive finish

Attractive and bright color options

Variable thickness for versatile application
What is the advantage of epoxy flooring?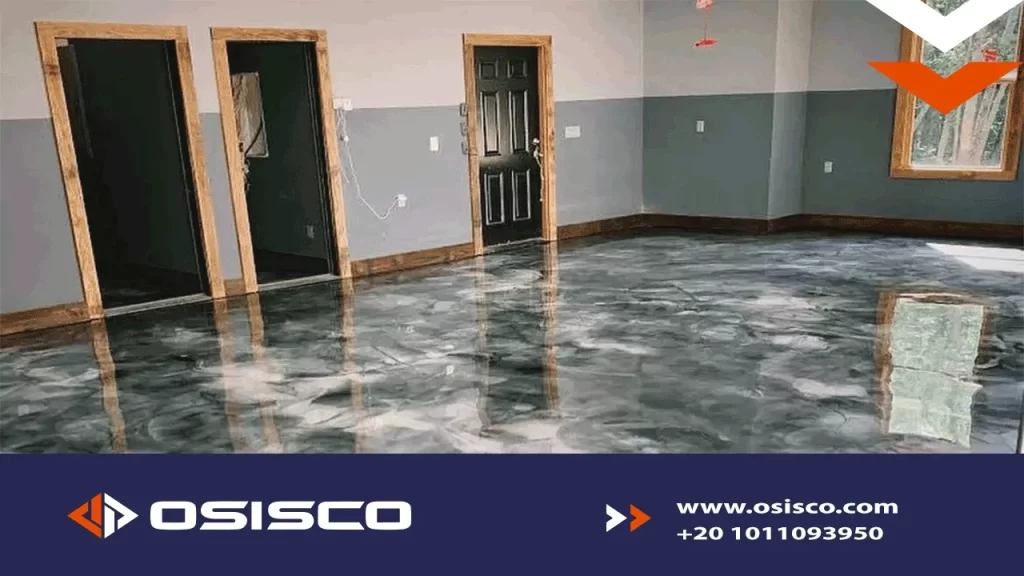 The appearance: When you use this material to paint epoxy flooring, it can give the place a shiny and perfect appearance and is easy to clean and get rid of any substance that falls on it, whether this is a chemical substance, oil, or anything else.
Price: The price of this material is considered among the advantages and also among the disadvantages. The prices of this material in foreign countries such as the United States of America are less affordable; they use it as an alternative to ceramics and compare the prices of floors coated with this material and the floor prices.
Resistance: This material is on a very high degree of resistance, as it can withstand oils, gasoline, and many other chemicals. It is also resistant to high temperatures and ideal moisture for basements.
The life span: This material has a very long life, and this is after comparing it to many other types of floors except for cement floors; it is longer, although epoxy must be placed over a cement floor.
Protection: This material can protect the floors when you use it with proper materials. It may live for long periods without being exposed to any peeling or cracking.
Fixing: This material is easy to repair if it gets any problem, unlike ceramic floors.
Shapes: One of the biggest advantages of this material is the abundance and diversity of its designs. It is possible to use transparent flooring on top of a cement floor. You can place an image under it the shape becomes more beautiful. It has no breaks, as in the case of floors marble, ceramic, or another flooring.
Lighting: This material can reflect light and increase the lighting by using the least possible light.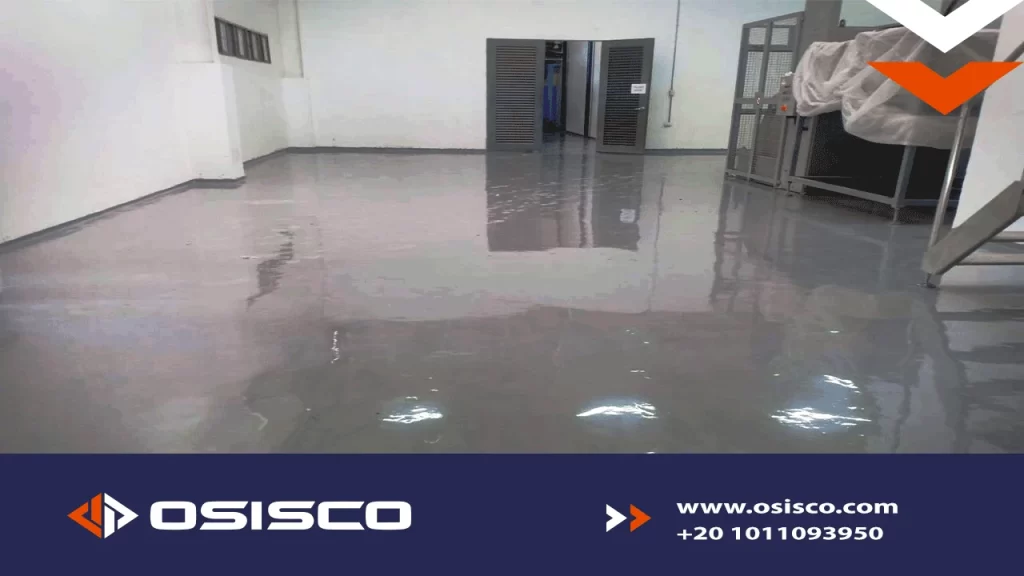 Questions about epoxy flooring types
What is epoxy resin?
Epoxy flooring is made of a thick and shiny material that you can place on the floor. It is considered an alternative to ceramics, and one of its most important features is that you can equip epoxy material with three-dimensional images.
It gives the person the feeling that he is walking inside the painting, as it contains stereoscopic illustrations as if you are part of the models and the epoxy material you can spread on the floor. Spread it well and leave it for a few days until it becomes solid.
What are the different types of Epoxy flooring?
Epoxy flooring is the most popular resin type, but it is not the only one.
Epoxy resin
Polyester
Polyurethane Resin
Silicone
What is resin used?
Resin is used in many industries, decorations, colors, and other types of insulation, as the resin is used in many industries, and it is a material that is not known on the personal level of any artist used in the manufacture of resin accessories.
CS120 is a high-build metallic floor coating that provides a finished metallic finish with the perfect depth of color and the ability to use several different colors on the same floor.
Once properly mixed with the drill mixer, this paint is poured onto the floor and spread over the entire surface with a squeegee. Optional accent colors can then be poured over the ground and gently mixed using the roller. A final finish coat is then added to ensure proper protection from high traffic and corrosive chemicals.
What is an epoxy coating on metal?
It is necessary to use epoxy-coated rebar to protect the steel from corrosion. The use of certain types of epoxy yielded positive results, especially in steel exposed to seawater while evaluating the use of epoxy for coating steel reinforcements subject to chloride attack.
Since 1970, epoxy resins have been used in coating reinforced steel for bridges and marine structures. Some shortcomings have been found in this method. Precautions must be taken during the manufacture and operation of the reinforcing paint, such as avoiding the presence of any friction between the bars, which may affect the result of abrasion of the coating layer due to friction.
What is epoxy used for?
There are many ways in which we can use this material. It can be used to paint floors, especially in large spaces. It can also be used to coat hospital floors, as it is a bacteria-resistant material that is easy to sterilize on home floors and villas.
It is necessary to know its advantages and disadvantages before making this decision. This material has many benefits, but the most important of these features are:
Can you put Epoxy flooring over the wood?
The art of resin was not limited to accessories but also touched on other works and products, such as the manufacture of resin tables, trays, and epoxy resin stands; the strongest aspect was resin on wood.
Is Epoxy flooring cheaper than ordinary flooring?
Although there are cheap types of climates, in Egypt, the epoxy meter is available at only 300 pounds, including raw materials and installation.
Overlapping and elaborate and sophisticated graphics, one meter of epoxy can reach 650 pounds or more, depending on the type of drawing and the number of colors in it.
How long does Epoxy flooring last?
This material has a very long life, and this is after comparing it to many other types of floors except for cement floors; it is longer, although epoxy must be placed over a cement floor.
How is metallic epoxy flooring applied?
There are two ways to apply our mineral floor coating depending on your chosen system.