There are several reasons for choosing epoxy floors, all of which add up to making the benefits of epoxy flooring. In particular, what distinguishes a floor epoxy finish from others is that it provides the most comprehensive set of benefits currently available. It definitely is the greatest solution for floor effective protection.
When remodeling industrial structures, businesses and organizations usually give exterior and interior painting priority. Except in cases when the damage is serious enough to impede daily operations, floors are ordinarily not given much attention. However, they have a significant impact on production and are crucial for safety and facility cleanliness, next we will know more about it with OSISCO.
Every manufacturing facility faces different challenges that necessitate tailored flooring solutions. Industrial epoxy and other high-performance resinous floor coverings can enhance employee health and safety while also enhancing worker productivity in industrial buildings, warehouses, or factories.
Considering the benefits of epoxy flooring, the sort of floor coating that should be used depends heavily on site conditions, as they do with many other design and technical issues. For instance, high-performance and hygienic floor surfaces that are simple to clean and resistant to abrasion, staining, and chemical deterioration are needed in food and beverage manufacturing facilities, storage facilities, laboratories, and pharmaceutical plants.
What is Epoxy Flooring?
Epoxy is a material applied as an adhesive to protect concrete floors. Epoxy floors are a type of flooring system made of synthetic resin laid over concrete substrates as a method of protection and decorating. Epoxide resin and polyamine hardener are the two main ingredients. Epoxy floor coating not only shields surfaces from harm but also makes otherwise heavily used spaces look polished and inviting.
read more about Epoxy Garage Floor Coating Advantages for Homes and Business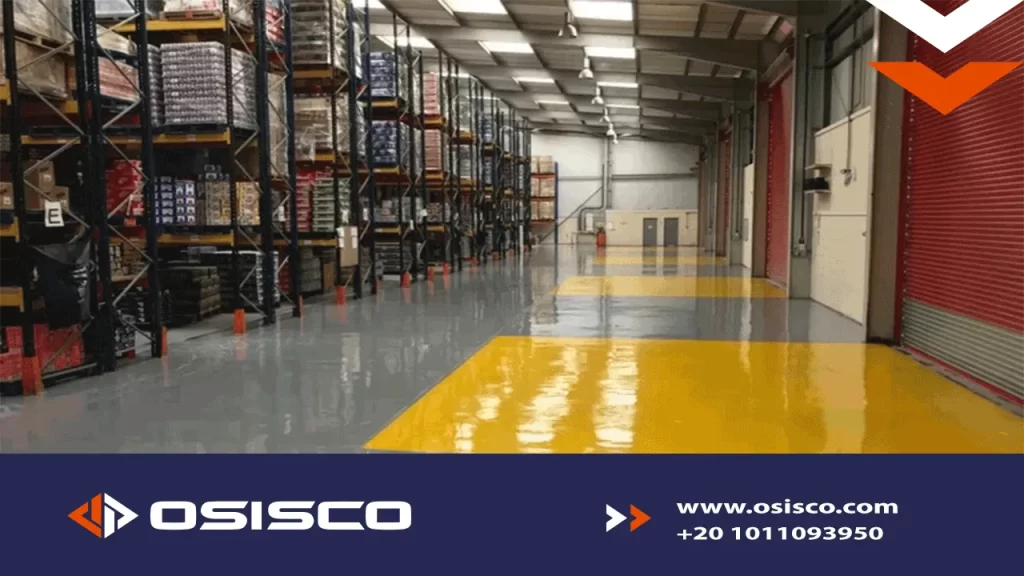 As diverse as the benefits of epoxy flooring, this coating method is used for industrial and commercial structures such as warehouses, manufacturing plants, labs, garages, auto shops, and walkways. This high-impact, smooth surface can sustain prolonged use with large loads and rough handling.
Benefits of Epoxy Flooring
Enhances Appearance
For covering up floor scuffs, epoxy coating is frequently utilized. When used with epoxy paint, it can completely conceal any fractures. To complement a brand's distinctive style, industrial-grade epoxy floor coating can be blended with paint colors and patterns.
Industrial facilities might look completely different thanks to the glossy appearance of the epoxy floor finish's luster. Additionally, decorative lighting can give a facility a sophisticated appearance by adding a new dimension to its sparkling surface. Metallic epoxy and decorative quartz or mica flakes can give the surface more gloss, a speckled appearance, and even some practical traction.
Safety
The highest emphasis in industrial environments is safety. To prevent slip-and-fall incidents, industrial buildings and factories should have floors with safe, non-slip surfaces.
The safety of the employees is ensured by the non-slip surface provided by epoxy flooring. Even in the event of liquid accidents, the epoxy top layer significantly increases floor safety.
Epoxy materials are resistant to slipping because they frequently include traction-enhancing elements like gravel, aluminum oxide, or polymer grit. They are safe for use in any working environment due to their resistance to heat and shock.
read more about Terrazzo floors A Trusted Flooring Choice
Epoxy floors' gloss, as indicated, greatly enhances lighting in enormous buildings that would not normally receive much natural light. Because of its brightness and lighting qualities, it can aid promote safety as well as visibility.
An epoxy floor has the additional benefit of being able to be custom-designed to incorporate regions that are specifically defined, such as contrasting colors or line markings for pedestrian paths, safety zones, or restricted-access zones.
Eco-friendly
One of the benefits of epoxy flooring is that is environmentally friendly. By avoiding the installation cut-off waste of tile and rolled goods, epoxy and other resin-based floorings can be an environmentally friendly solution for your company.
Facility managers appreciate knowing that the vast majority of liquid flooring components available today include no VOC and heavy metals.
Additionally, OSISCO provides options for recycled glass aggregate blends, is formaldehyde and phthalate free, and provides recyclable packaging for many goods.
Epoxy flooring and comparable fluid-applied substitutes have environmental advantages due to their occasional repair and long-term durability.
Highly Cost-Effective
If you intend to replace your current flooring with vinyl or tiles and save money, think about epoxy. Since the old flooring doesn't need to be removed, this time-saving solution is also very cost-effective.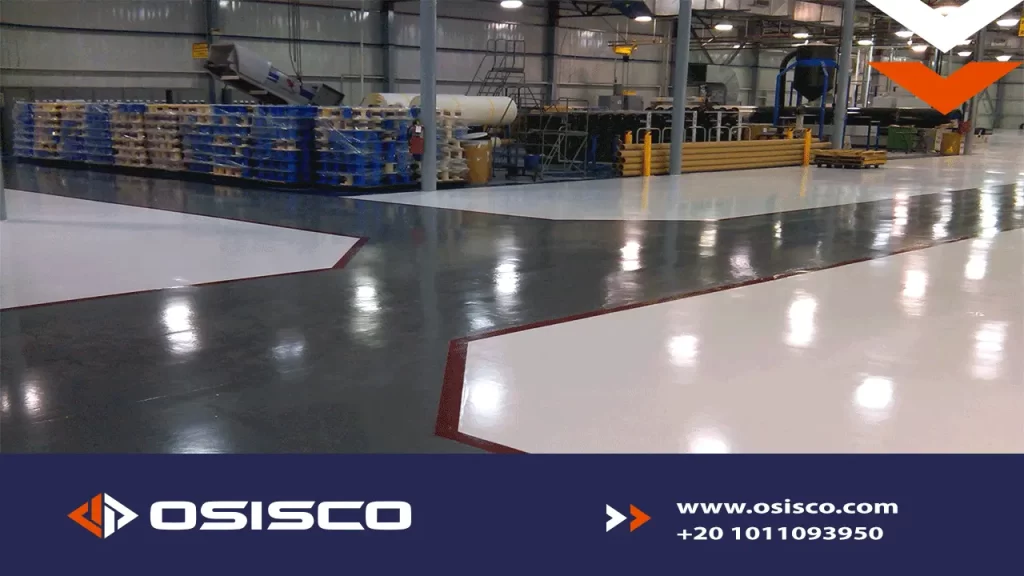 Epoxy refurbishing is still a more affordable option in terms of time and price, even though it requires some time to dry properly between the installation of numerous layers.
read more about 3 Most Popular Types of Polished Concrete Floors
Due to the quick treatment of each flaw, repairs are also economical. It could be a wise and cost-effective decision to hire seasoned specialists to install epoxy floors because their careful preparation will prevent sloppy application. Additionally, they'll make sure the floor lasts for a very long period.
Great Durability
The excellent durability of epoxy coating is another advantage. Concrete floors coated with epoxy will last a lot longer than floors covered with other common materials. It has protective qualities that make it resistant to abrasion, shock, water, and extreme wear.
It is a reliable and sensible option that does not need to be replaced or redone for an extended time. Because of its durability, epoxy flooring may be so inexpensive, allowing businesses to use the money for other essential items.
High Resistance
Industrial areas frequently experience heavy traffic, wetness, heat, or shocks. Epoxy flooring is a durable, chemical-resistant surface that can withstand the weight of large tools, machines, and automobiles without sustaining any damage.
High-grade epoxy, especially varieties that contain phosphorus, can withstand temperatures of more than 200 degrees Fahrenheit. It is also resistant to heat, oil, corrosive chemicals, brake fluids, and heat, which makes it a fantastic option for garage floors and commercial kitchens.
Additionally, it stops chemicals from seeping into concrete or leaving dangerous residue.
Provides Protection
Among the benefits of epoxy flooring is its great protection of the concrete surface. Epoxy flooring systems cover and safeguard surfaces like industrial concrete floors, and other materials when they are sealed over them.
This highly strong polymer acts as a shield, making the surfaces more resistant to damage and keeping them from breaking and shattering.
Epoxy is made to become a solid, stain- and defect-free surface that is adhered to the floor by applying multiple coats over a few days.
read more about 2023 Marvelous Guide for Floor Epoxy Resin Egypt
Incredible Strength
Epoxy is a powerful solid polymer that can withstand heavy weight, chemical degradation, and stress. With this robust layer, concrete is able to bear loads of up to 10,000 pounds per square inch well.
Epoxy flooring is strong to endure tearing, and corrosion because of its chemical characteristics. The epoxy floor is made for heavy-duty.
Easy to Maintain
Ease of maintenance and low-effort cleaning requirements are two additional key benefits of epoxy flooring.
One of the things epoxy is maybe most known for is how simple it is to maintain. The maintenance is simple and involves mopping with water and soap and cleaning or vacuuming with a broom.
Due to its excellent abrasion resistance and the fact that heavy-duty industrial equipment won't necessarily leave scratches, industrial epoxy floor coating is so simple to clean.
Epoxy is a particularly hygienic and safe covering since it resists the easy accumulation of dust, bacteria, and other impurities. Avoiding items with acids can help preserve the high sheen of the epoxy floor surface.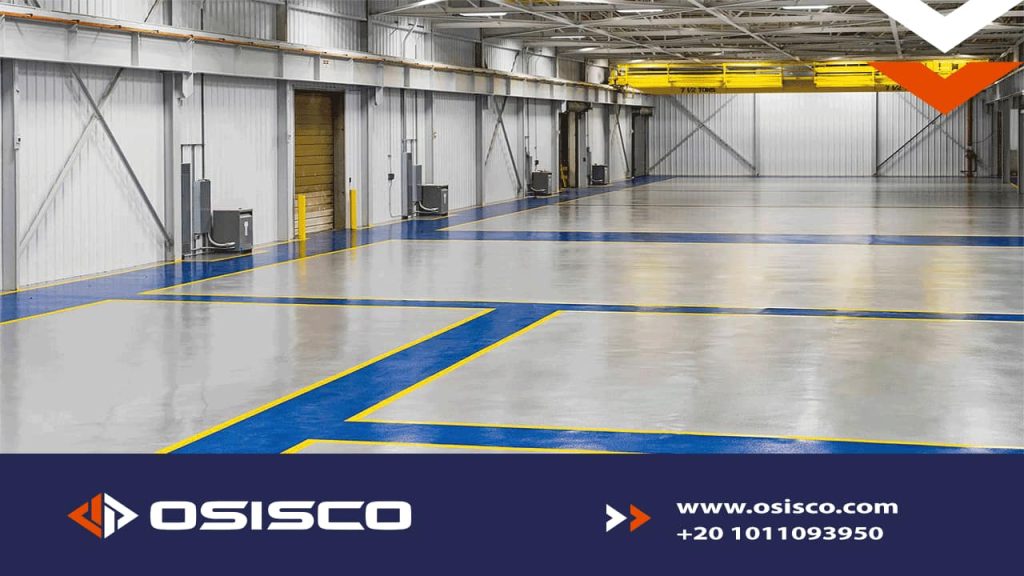 Vehicle Compatibility
One of the benefits of epoxy flooring for industrial use is that it can withstand very heavy loads of machines or vehicles. Epoxy floor coating is gentler on car tires than concrete and won't corrode.
Epoxy, which can handle enormous loads, also offers good support for cars over an extended time.
Due to its resistance to stains, chemical leakage, and harsh substances, epoxy flooring is a fantastic option for garages. It is easy to clear gasoline and oils without causing any irreversible damage.
read more about What is the best concrete polishing machine?
Conclusion
These are all excellent benefits of epoxy flooring that make it the best for warehouses and factories. Any plant owner who appreciates the safest and most durable protective commercial flooring system on the market can be confident that if they choose an epoxy floor, they will get superior functionality and performance along with affordability and remarkable aesthetics.
Any business must invest in choosing the proper flooring system. If the decision is made wisely, it provides long life and high performance for the concrete slab and painted floor surface. To discuss the best choice for your production facility, get in touch with OSISCO right now.