The concrete polishing machine is used to grind and polish the floor or sometimes to grind the floor to prepare the surface. The concrete polishing machine can be used both wet and dry.
Large floor grinders with multiple heads can be classified as planetary or rotary based on the configuration of the grinding stones or pads used in the base of the machine.
Planetary grinder polishers cover more surface area evenly. These mills tend to be better balanced than their rotary counterparts, and the more heads there are planetary mills, the more evenly distributed weight, and therefore less operator fatigue.
The base of the planetary mill consists of a large main disc. Three smaller disks are installed on the main disk, which rotates at a different speed than the main disk.
All the small discs grind or polish the surface simultaneously, while the large disc never comes into contact with the floor.
These machines use horizontally rotating discs to perform many tasks, from grinding and polishing to removing thin paints and coatings.
Key to their versatility is the grinding accessories, which are available in different types and grits to suit many project applications, next we will know more about it with OSISCO.
There are many styles of concrete polishing machines to choose from, and it can be confusing and a little intimidating, especially when trying to decide what type of design is best for you and your projects.
This article will outline the primary types of concrete grinders on the market and discuss the positive and negative aspects of the most popular machines.
The most common type of concrete polishing machine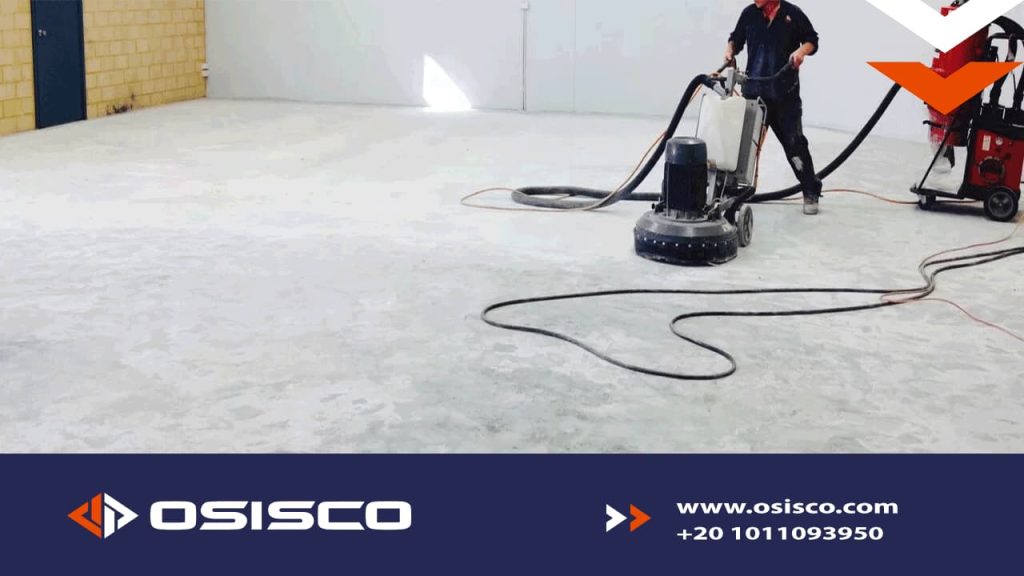 Single-head machines.
Double-head machines.
Triple Head Planetary Grinder/Polisher.
Four-head planetary grinder/polisher.
Multi-disc grinders are non-planetary.
Variable speed and reversible machines
Let's look at your options for popular grinding/concrete polishing machine designs
Single head machines
While there are exceptions, most single-head machines are small and light (about 100-300 lbs).
They're great for smaller areas that larger machines can't reach, edges, and hard-to-reach areas like small rooms, bathrooms, offices, or light-duty floors.
These smaller machines are also great for taking the slight bumps and raised points out of a concrete slab.
you can know more about 7 Tips for Maintaining epoxy floors like brand new
It eliminates the need for contractors to "float" these edges with floor patching compound to prevent these imperfections from "telegraphing" or transferring to the surface of the new material being installed.
This concrete polishing machine is cost-effective, lightweight, and essential. Every flooring contractor should have a concrete polishing machine like this strapped to the inside of their truck.
Projects with a large area are less suitable for a single-head machine. While these smaller machines will work well on larger projects – the turnaround time (if you are only using a small machine for a large area) is significant, and most contractors will opt for larger machines for higher productivity.
These smaller machines also won't work well on floors that need to be milled on a firm, flat surface, because with a smaller footprint, it's hard to get that smooth consistent cut. A larger machine such as a 24-inch or 32-inch machine will produce a flat, more even surface.
Double head machines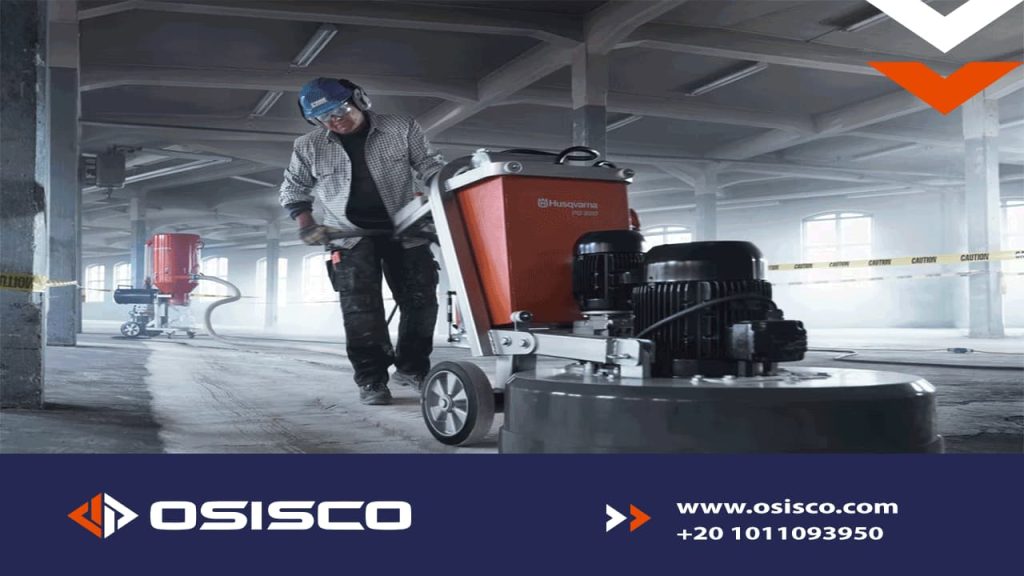 Double-head machines are great for producing aggressive CSP (Concrete Surface Profile) – they are easy to use and cost-effective; It is a popular choice of concrete grinding machine, especially in the rental market.
An ideal diamond double-head machine can produce a CSP of 2-3, maybe even a CSP of 4 (coarse finish) on some concrete. This profile is great for most moisture-relief and epoxy systems and is an ideal "blank slate" for skim-less coatings in preparation for panel goods, VCT, and carpeting.
Triple Head Planetary Grinder/Polishers
Here is where we begin to get into the larger and more versatile machines that not only grind floors to the desired CSP but are also effective concrete polishers.
The three-headed planetary treadmill works this way:
The large cylinder you see in the photo above functions similarly to a "solar system". This cylinder will rotate either clockwise or counterclockwise. The three cutting vertices are the "planets".
you can read also What are the 9 Preferable Epoxy Floor Types?
With all three head planetary grinders – all three heads will rotate in the opposite direction of the main cylinder/plate, providing efficient and consistent cutting of concrete.
Heads running in opposite directions make for a well-balanced machine that is comfortably controlled by the operator.
Three-head planetary concrete polishing machine pros
Cost-effective, it costs much less than a quadruple machine.
It grinds faster, honestly, people argue about this. But the common idea is that with a three-head machine, you have much more downward pressure on your diamond, which makes it cut faster.
Others assert that four-headed equipment has more diamonds (12) for cutting the ground.
As mentioned, triple-head machines provide a great polished concrete surface.
Triceps machines use fewer tools. Therefore, this saves the contractor money.
Cons of the triceps machine
While 3-head machines are smooth-running machines, they are not as smooth as a 4-head machines.
One difference between triceps and quadriceps machines
As mentioned, all three grinding heads rotate in the same direction with three-head machines. In a four-head machine, two of the milling heads rotate opposite the other two.
Think of it this way: The "North" and "South" heads will turn clockwise and the "East" and "West" heads will turn counterclockwise, resulting in a very smooth-running concrete polishing machine.
Also – and this is a very important point – many of these machines are variable speed! This allows you to run these machines slower when "cutting" the concrete, producing the required CSP – and then speed up the machine as it begins to grind the concrete.
Another feature of most planetary grinders is that they are reversible, and will run either clockwise or counterclockwise. This is a great feature for many reasons:
Sometimes diamonds cut better and faster when you switch directions from clockwise to counterclockwise.
When using "directional" diamonds, much like PCD diamonds (large aggressive diamonds), you must run them in the direction they are designed to be used. It is easy to do with a reversible machine.
read more about The Superior 3 Types of Decorative Epoxy Floors
Four-head planetary grinder/polisher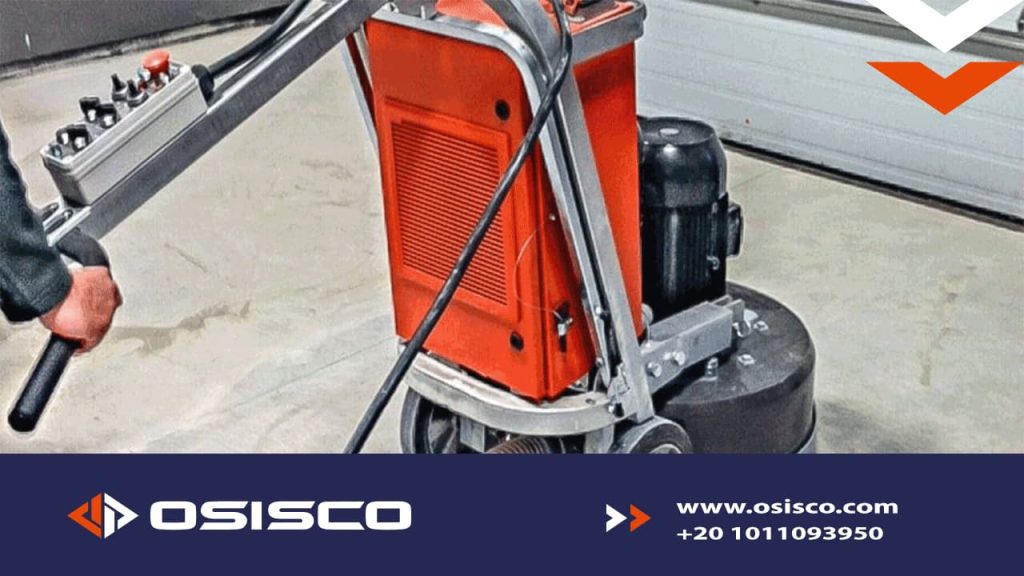 Four-head, belt-driven planetary grinders—such as the Predator grinder/polishing pictured above—are considered by many to be the ultimate Cadillac of concrete grinders/polishers. Its effectiveness, convenience of operation, and its unmatched ability to produce a high degree of clarity and reflectivity when polishing concrete.
Pros of four-head planetary concrete polishing machine
Very smooth-running machines. When some machines are on all day, they can tire you out. But four-head machines run smoother and reduce operator fatigue.
Clean, crisp, clear reflection and luster when polishing concrete, three-head machines work well, but four-head machines outperform them.
Ease of maintenance – are easily accessible and easy to replace requiring only standard tools.
Provides a consistent cut across the width of the machine, resulting in less overlap required in passes, allowing you to grind and polish with less overlap, increasing productivity.
Four-head machines also produce a "flat" floor with less precise "birdbaths", because with a four-head machine, one of the heads always applies greater downward pressure to any hidden high points in the concrete, and these high points are ground level with the rest of the slab.
Four-head concrete polishing machine cons
cost. Four-cap machines cost more capital to manufacture, and this fact is reflected in the sticker price.
Four-head machines are not as fast in grinding as three-head machines.
Power trowel concrete polishing machine
Electric trowels have been around for many years; they are used for laying wet concrete. But in recent years, manufacturers have learned that the right polishing diamonds attached to a floating through, make for a great polishing system at unprecedented production rates.
This system is a great choice for very large projects of 20,000 square feet or more. The reason for this is their very high production rates.
This system is great for warehouses, production facilities, and manufacturing floors.
Small, high-quality projects where wall finishes and millwork have already been installed, as well as occupied spaces.
read more about Superior 12 FAQ About Epoxy Floor System
The reason is that you must use a "WET" power trowel. The floor must be soaked with water and polished using this "wet method" and this method is not practical for these types of projects.
Non-planetary multi-head machines
This concrete polishing machine varies in size and number of heads. It is common for this type of equipment to have between six and eight cutting heads. These machines do not have a master cylinder that rotates, only the individual heads that rotate.
They also operate differently from true planetary grinders. But with a little practice, these machines can be a good option.
Conclusion
Planetary grinders are usually lighter than rotary grinders, which makes them easier to maneuver. They are designed to move across the ground in a straight line with complete ease, putting less stress on the operator.
You need more equipment than just a grinder to polish concrete, but the concrete polishing machine is now very much a part of the flooring world and will remain so for the foreseeable future.
Therefore, serious contractors should consider financial investment and training to participate in this growing segment of the flooring industry.