Concrete polishing like granite and marble is a popular flooring material used on every surface type. Although it is an auxiliary and reliable material, unfortunately, it is often affected by dirt, wear, and scratches. Don't worry; it's not hard to keep concrete looking new with proper maintenance and care, next we will know more about it with OSISCO.
Our concrete grinding and polishing services will surprise you. We provide a perfect surface finish for concrete floors that will be clean and new thanks to expert technicians and distinctive products.
Concrete polishing methods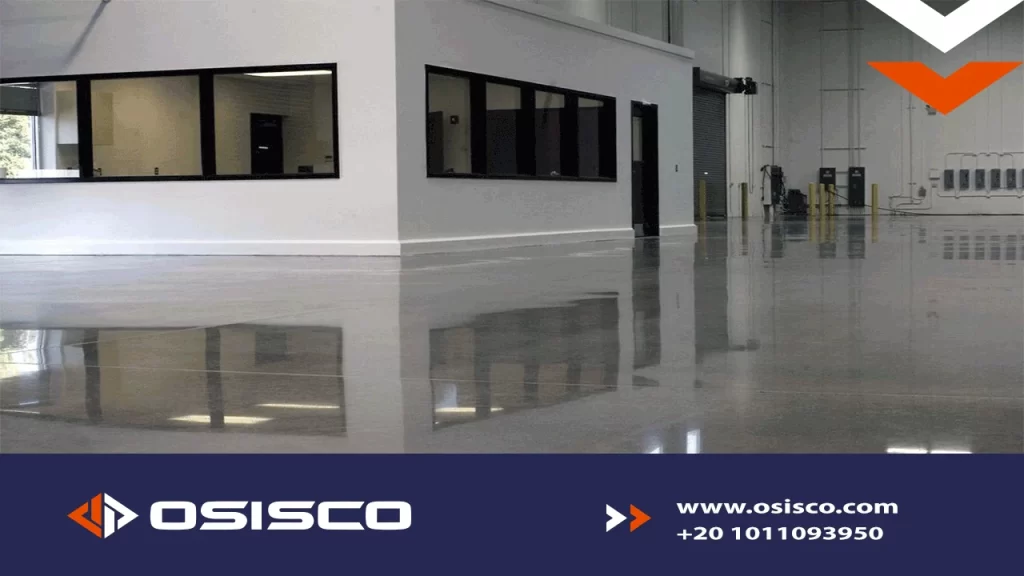 Concrete polishing services improve the internal strength of the concrete surface. Thus, you can enjoy long-term durability as well as aesthetic appeal. Your floors will be in service for a long time.
Read more about Self-leveling epoxy what are its best benefits?
Concrete polishing produces superior-quality, heavy-duty concrete floors with an aesthetic appearance comparable to natural stone floorings such as marble and granite. At the same time, it has high hardness and resistance to corrosion, and it wears due to friction resulting from the passage of vehicles and individuals, in addition to its ease of maintenance. It is why this system has become the most common in heavy-duty areas.
The wet method for Concrete polishing
In the wet method of concrete polishing, we use water to cool the diamond abrasives during the grinding process. It reduces the amount of dust formed during the polishing process. The water used in the wet polishing method helps reduce friction. This water also acts as a lubricant, thus extending the life of the abrasive polishing materials. As we use water throughout the process, a large amount of formed slurry. It creates difficulties with cleaning and disposal.
The dry method for Concrete polishing:
In the case of a dry concrete polishing method, we do not use water during the process. In the floor polisher, there is an attached containment system, so that the dust formed is taken directly through this arrangement through the vacuum effect. It eliminates the mess associated with the process. It is a plus over the wet polishing method. The dry method is commonly used for polishing industrial floors because it is more convenient, fast, and environmentally friendly.
You can know more with OSISCO Epoxy Systems Service.
Characteristics of Concrete polishing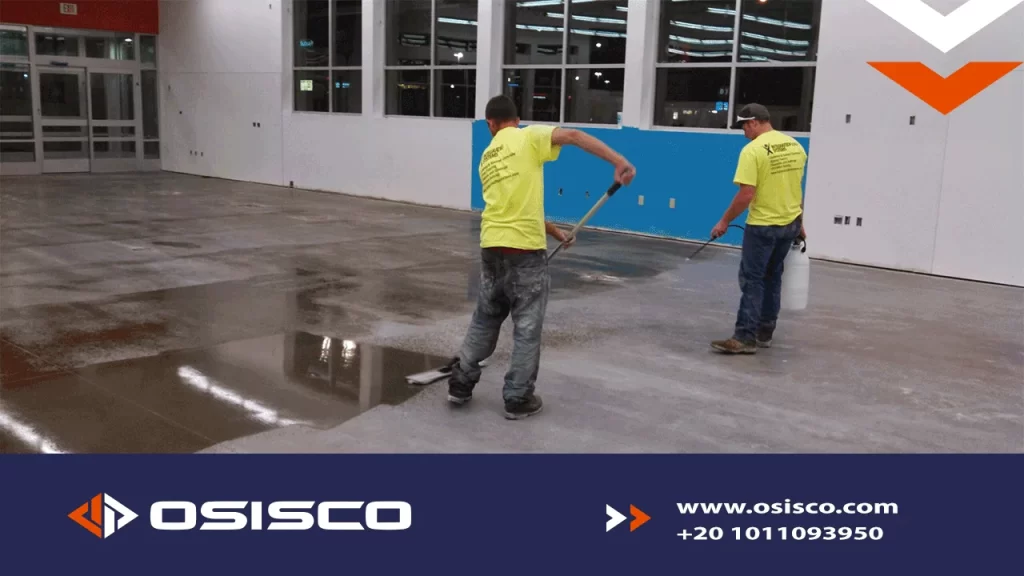 High durability.
It creates a non-slip surface with a high coefficient of friction.
Low maintenance.
Insect attacks and mold growth are not encouraged.
Helps improve natural lighting
The use of existing materials in the construction makes it sustainable.
Cleaning polished concrete with water or neutral detergents.
Polished concrete can withstand harsh industrial environments.
Improving the concrete surface by polishing.
The appearance of the Concrete polishing surface is improved.
Achieving three-dimensional shapes by polishing concrete compared to natural stone.
Read more about Epoxy flooring | What are the best advantages of it?
Concentrate Polishing Advantages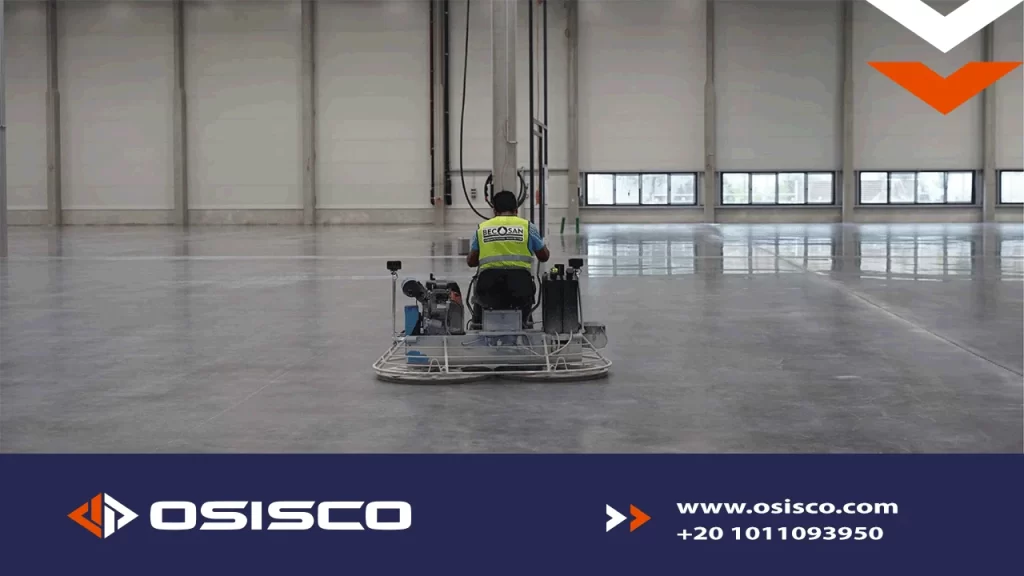 The levelness and smoothness of the Concrete polishing and the partitions facilitate safe movement and prevent accidents and dangerous spills.
Economic: long-lasting, as the surface becomes more durable and does not rust easily. It does not require repainting.
Aesthetic look: There are no stains from tire marks or oils, and the material is highly resistant to wear, corrosion, heat, and dust. It is available in many colors.
A friend of the environment: It needs environmentally friendly materials and methods. Cleaning requires only soap and water.
Improve work environment: It has a superior ability to absorb sound. The flat surface reduces vibrations that occur in forklifts. It reduces stress on electronic components caused by electrostatic discharge.
Durable: The concrete floor is characterized by its durability, and its flexibility keeps it from being damaged. There is no need to worry about high heels, pet claws, or even the edges of the furniture, as it is almost impossible to damage the surface of this floor.
Last forever: If you take good care of your concrete floor, it can last forever. All you have to do is make sure to cover it with wax every few months to protect the outer layer and give it a fresh, new look.
Cold temperature style: The concrete floor does not trap heat, so you always feel cold, and this may become a problem in the winter.
Perfect quality: Because concrete colors penetrate deeply into the surface of the concrete, they produce a permanent color that is fade resistant and, unlike paint, will not peel or fade after a short time.
Design flexibility: Colored concrete is so versatile that you can achieve almost any look imaginable that fits your design taste and budget. The addition of pigments to wet concrete mixing produces concrete in a wide range of wound colors. Surface treatments such as acid stains, concrete stains, and concrete floor coatings can transform ordinary concrete into beautiful, one-of-a-kind finishes. Also, concrete can be stamped with a rubber stencil to give it texture. Combined with the prerogative pigments or coloring agents, ready-mix concrete can mimic ceramic tile, natural stone, brick, and even dirt.
No need for maintenance: Unlike carpet or wood, concrete floors require less maintenance on a regular basis. Although it is not maintenance-free and requires your attention to stay in perfect condition. It also requires less energy to install than other types of flooring. Concrete is also good for indoor air quality because it avoids mold, mildew, and unpleasant odors; It contains no harmful VOCs and can be finished with no-VOC sealants. Concrete's absorption of hot and cold air reduces the need for heating and cooling. The concrete can be recycled and the surface reduces the need for disposal of waste, such as floor scraps and underlayment.
Concrete polishing provides a shiny, smooth, easy-to-clean, dust-free concrete floor that resists wear and marks for a beautiful, long-lasting finish.
When completed, leave the ground flat, smooth, shiny, durable, and highly reflective. It produces an almost mirror-like floor that is exceptionally resistant to scuffs, dust, marks, and abrasion.
Read more about Metallic Epoxy What are its top benefits?