Designers use epoxy terrazzo for the external facades of modern villas and buildings. It is known in English as "Terrazzo." It is a building material capable of creating many unique finishes. Building materials such as marble, granite, glass, and sometimes epoxy is used in factories, next we will know more about it with OSISCO.
when terrazzo is manufactured and poured in place or prefabricated in ready-made shapes and sizes.
Epoxy Terrazzo uses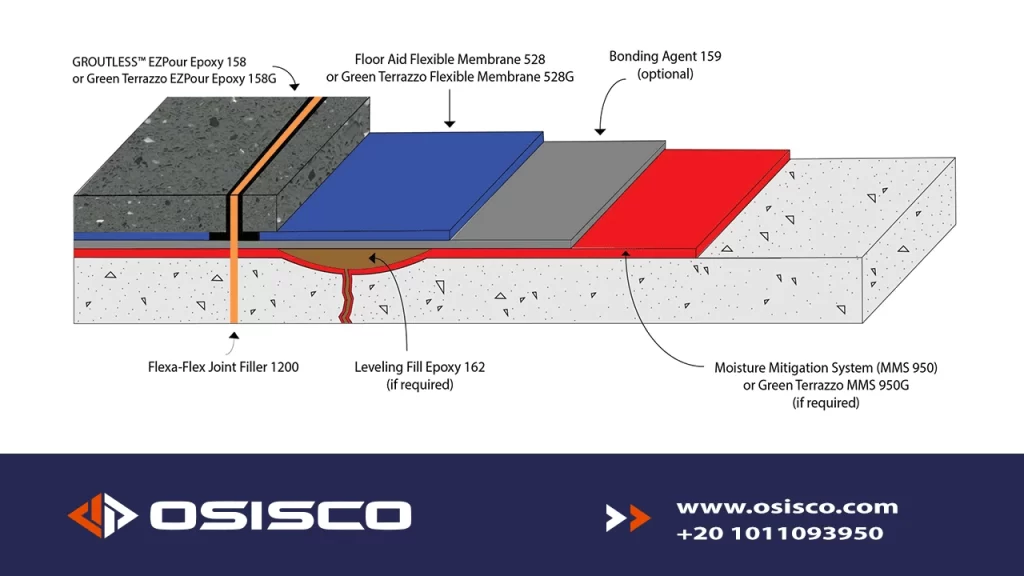 Read more about Self-leveling epoxy what are its best benefits?
Terrazzo is used for many things, including:
It is used in the design of facades so that a layer of paste for breaking epoxy terrazzo is placed, then sprinkled with broken marble. It is usually preferable to divide the surface covered with broken epoxy terrazzo so that the zigzags do not appear, and from an aesthetic point of view, it is more beautiful.
Making tiles for gardens and farms as a road between which grass spaces are planted or left as it is.
Terrazzo has many uses, including those related to the facade of buildings and their entrances, including those related to the floors of apartments, houses, various villas, companies, banks, and other large institutions, and it has become many types used in different kitchens and bathrooms, where:
It is in various facades of buildings, real estate, villas, and palaces. It gives a kind of luxury and sophistication.
It attracts the eyes of visitors and passers-by with its attractive and elegant colors.
It is used at the entrances of real estate, companies, banks, etc., which gives psychological comfort to visitors. It is installed on walls and floors.
Designers use terrazzo at the entrances of real estate, companies, banks, etc.; It provides psychological comfort to visitors as Crafters install them on walls and floors.
Designers use terrazzo in different kitchens as a basis for the housewife, but the entire kitchen can be terrazzo instead of wood and alumna.
You can know more with OSISCO Epoxy Systems Service.
Terrazzo advantages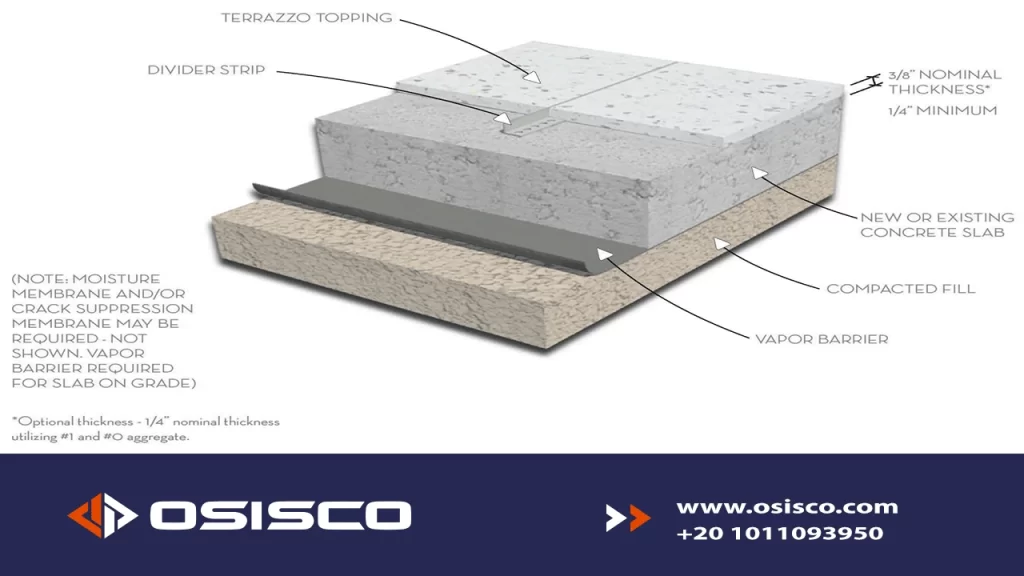 The breaking strength and durability of Terrazzo: Terrazzo has a very high adhesion capacity on all facades of residential villas, whether cement plaster, ordinary building stone, concrete molds, or soft tiles.
Low costs of Terrazzo: Terrazzo has very economical costs compared to the prices of regular cement plaster, in addition to paint, which costs a lot. Very economical when compared to the traditional plaster and paint that require continuous maintenance, but when compared to stone or marble, it is much cheaper.
Ease of maintenance, renovation, and cleaning: One of the most necessary features of broken epoxy terrazzo facades is the ease of cleaning them, as simple tools and equipment can be used to clean them, such as a car washing machine or a floor cleaning brush.
Heat insulation in Terrazzo: Some people employ Terrazzo as a thermal insulator because it absorbs external heat. Terrazzo goes on the exposure to sunlight facades of the building and retains heat on the surface. Terrazzo has high efficiency, so it is considered an excellent choice when there is a floor heating system in cold areas.
The variety of its shapes and colors: There is a massive variety of its shapes and colors due to the variety of raw materials. There is epoxy terrazzo in various colors and granite types, which makes breaking epoxy terrazzo an excellent choice for every decoration design. One of the most necessary features of granite is its unprecedented strength and hardness, in addition to the use of glass and metal. Customized Terrazzo can be in multiple shapes and colors, which makes it the best choice for interior designers.
Due to the non-porous floor, terrazzo offers a clean and hygienic flooring option.
Resistant to water, moisture, fumes, rain, and cracks as it is flexible in its expansion.
It is easy to clean, and the epoxy terrazzo can be washed and sprayed with water.
Flexibility in modification and ease of implementation as it expands according to the surface.
Good adhesion to traditional walls, such as bricks, ready-mixed concrete, and traditional plasters (do not apply the material to gypsum or surfaces with poor adhesion and painted walls).
Read more about Epoxy flooring | What are the best advantages of it?
Where can Terrazzo be used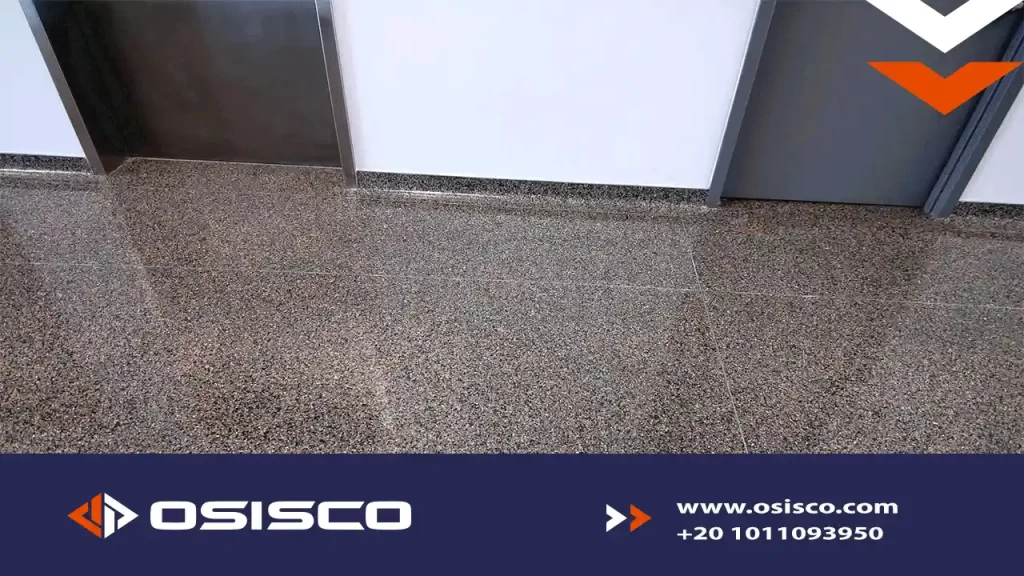 Use for floors, baseboards, walls, stair treads, countertops, and other custom products.
Houses and apartments are one of the most massive investments in a person's life. With the variety of possibilities for breaking epoxy terrazzo, homeowners are looking for solutions that will benefit their kitchen, bathroom, or living spaces. These solutions include flooring, worktops, backsplashes, and shower stalls.
Since building materials last a lifetime, homeowners willing to invest in this flooring type also benefit from the low maintenance. Homeowners can build beautiful custom floors and epoxy terrazzo countertops using broken marble.
First impressions are necessary for companies. Therefore, many companies welcome existing and potential clients in a calm and inviting environment. Terrazzo floors can go in offices for this purpose and boost employee productivity.
Companies can build their brand by installing their company logo in the main lobby. Companies can also display their brand colors throughout their hallways and office spaces.
Read more about Metallic Epoxy What are its top benefits?
Hospitals and health facilities
Epoxy terrazzo break provides a cleaner and healthier flooring option for hospitals. The floor is non-porous and resistant to the growth of bacteria and mildew.
They are an exceptional choice for healthcare facilities today. Since the epoxy present in some types of epoxy terrazzo fracture also has a smooth surface, which in turn makes moving sanitary equipment such as beds and wheelchairs from one place to another easy.
Good design improves academic performance. According to studies that focus on materials used such as epoxy terrazzo and their impact on the school design.
For primary schools, vibrant colors can create a lively and engaging atmosphere for younger students. School slogans can also boost the morale of the school. As in airports, the surface helps keep costs down with its durability and low maintenance.
Airports and transportation hubs
Airports use terrazzo to help guide passengers through the terminal areas. The use of colors and patterns provides visual cues for passengers. As a result, passengers know which direction to take.
The benefit that terrazzo brings to airports is its low maintenance and longevity. With constant traffic, floor finishes should last a lifetime, helping airports reduce repair and maintenance costs.
Read more about Concrete polishing