There are many flooring systems widely used, and one of the most popular is the epoxy floor system. Eventually, there will come a time when your floor will require a fresh coat of paint to maintain a professional and elegant look.
If you've never painted epoxy floors before, you likely have many questions for anyone working on your flooring system. In this post, we will address the five most common questions we get asked about epoxy floors, next we will know more about it with OSISCO.
Where can the epoxy floor system be applied?
The epoxy floor system is used in a variety of environments, including residential, commercial, and industrial. Our epoxy flooring professionals install epoxy in the following areas:
Garages
Warehouses
Airports
Retail stores, shopping malls
Medical facilities include physician practices, hospitals, and veterinarians' offices
Food processing facilities, commercial kitchens, and restaurants
Gymnasiums or sports facilities
Public safety buildings
Educational facilities
Read more about Self-leveling epoxy what are its best benefits?
How long can an epoxy floor system that has been professionally placed last?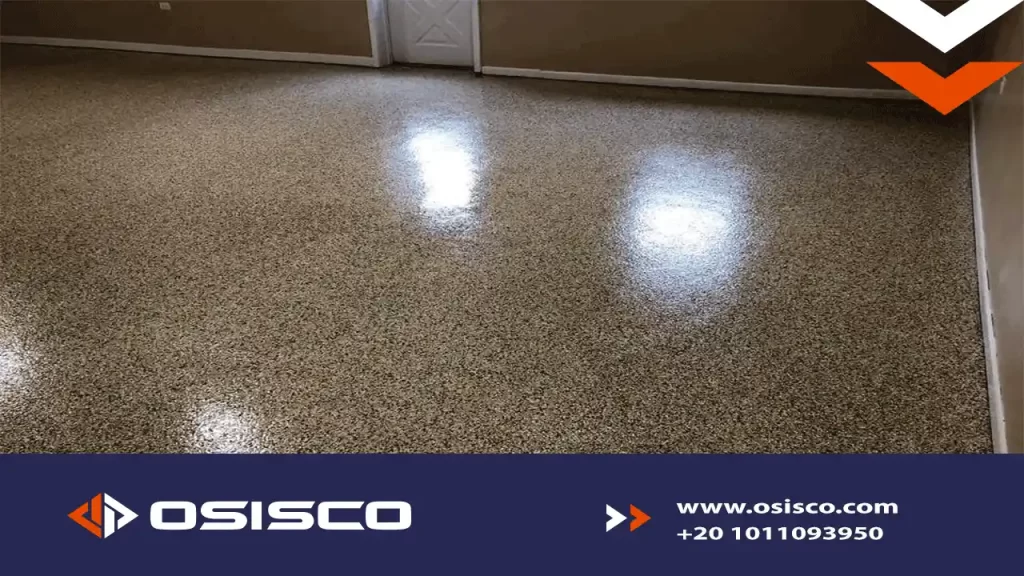 The longevity of epoxy floors depends on many factors such as the quality of the epoxy, the preparation of the concrete, where it is installed, and the risks it faces.
The good news is that a well-proven epoxy can last up to 20-25 years in a garage or basement. Just keep in mind that your epoxy will need a new clear coat every 5 to 7 years or so to maintain its appearance and performance.
Epoxy floor system can last up to 10+ years in the most demanding commercial environments.
What are the different types of epoxy floor systems?
Many customers are surprised to learn that epoxy floor coatings come in a wide range of formulations. The correct type of epoxy floor system will depend on your environment, whether the epoxy will be installed in a home garage, food processing plant, warehouse, or hospital. Below are the main types of epoxy floors available.
You can know more with OSISCO Epoxy Systems Service.
Are epoxy floors slippery?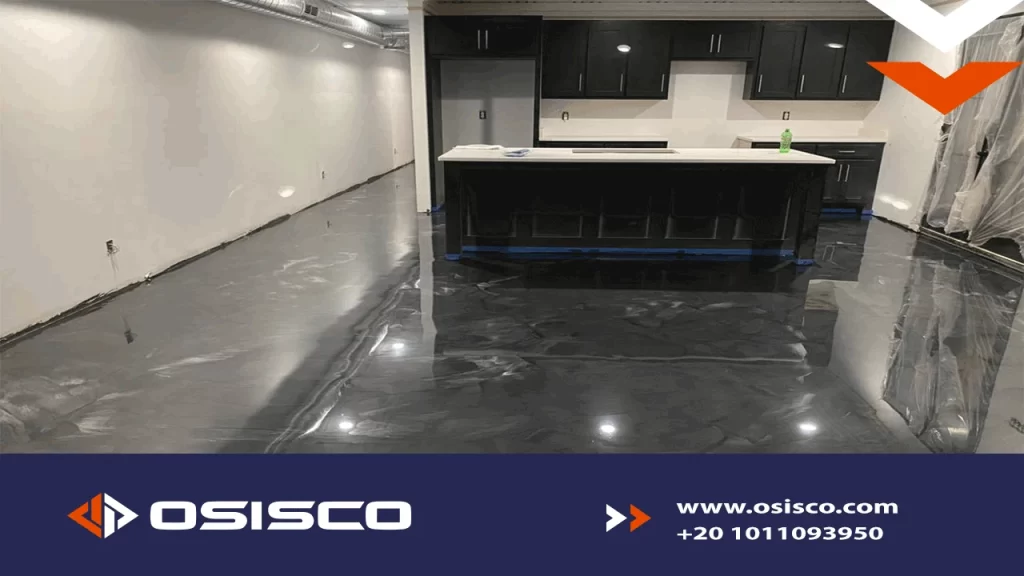 A common misconception is that epoxy concrete coatings are slippery. It is easy to understand because epoxy has a smooth, shiny surface.
In general, epoxy is very safe to walk on when clean and dry with a grip similar to a basketball court.
If you are concerned about slip resistance, especially if the floor is wet like in a commercial or garage setting, we recommend using a slip-resistant additive, epoxy quartz flooring, or epoxy flake flooring. All of them provide a textured surface.
Why are epoxy floors better than traditional concrete floors?
Conventional concrete is not as durable as it seems because it is by its very nature porous and prone to cracking, spalling, and other issues.
Epoxy floor coating protects the concrete floor from stains and damage while increasing tensile strength and compressive strength.
The epoxy is smooth and non-porous to make cleaning floors easy. It is also very decorative with endless ways to get the floor of your imagination.
Read more about Epoxy flooring | What are the best advantages of it?
Are epoxy floors ideal for commercial settings?
The epoxy floor system was originally designed for commercial environments. Epoxy is an obvious choice for almost any craft because it protects your concrete floor while creating a hard surface that can withstand almost anything.
Epoxy paint is USDA approved and can be used anywhere sanitation is a concern, including food processing plants, kitchens, and hospitals. Its non-porous, seamless surface resists liquids and isolates spills to the surface for easy decontamination and cleanup.
It can also stand up to forklift traffic, shopping cart wheels, chemical spills, abrasion, and more. Specialized installations are available for intensive industrial settings and areas requiring waterproof floors or dissipating static electricity.
Is an epoxy floor system suitable for residential spaces?
Epoxy floor system isn't just for commercial real estate. In the garage, epoxy withstands gas and oil spills, hot tires, dropped tools, water, and other hazards with ease.
It brightens up the garage, stops concrete dust, and provides a bright, clean surface to work on hobbies or just store belongings. It can also be installed over other indoor concrete floors in your home for a long-lasting decorative floor system.
Read more about Metallic Epoxy What are its top benefits?
How long does it take to complete an epoxy floor project?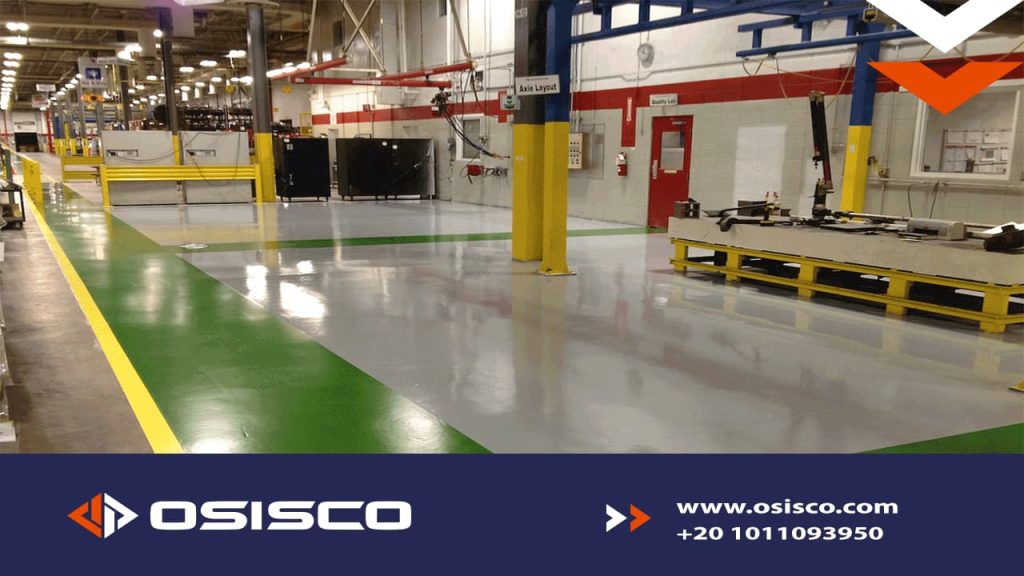 While it depends on how extensive the old floor preparation needs are before installation and how extensive the floor area is, it is not uncommon for floor coating companies to be able to provide customers with a twenty-hour turnaround time.
If time is of the essence and you have a specific day and time that you need to get the project done, be sure to let the floor coating company know this need before they start work so they can guarantee that the project will be completed. right on time.
If you don't have a specific deadline in mind, floor coverings will be able to give you, at the very least, an approximate time to get it done.
How soon after installation can I resume stepping on the floors?
Within about ten to fourteen hours, you can safely walk on floors without any problem. Within twenty-four hours, the floors can handle adequately with moderate use.
And after forty-eight to seventy-two hours, the floors will have achieved a complete chemical cure.
Read more about Concrete polishing
How do I keep my floors clean after installation?
There are two ways you can go about doing this: Either do the floor cleaning tasks on your own or ask the floor coating company for recommendations of floor cleaners they trust and return regularly.
This option will ensure that your floors are cleaned thoroughly with the added benefit of not having to put the time and energy into cleaning them yourself.
If you decide that you will clean the floors yourself, the floor coating company will provide comprehensive cleaning and maintenance instructions to ensure that the floors are cleaned safely and properly.
In general, you'll want to stay away from cleaners that contain acids, as they will damage your floors. Instead of this cleaning solution, choose a low-foaming degreaser.
Can we do custom floor colors?
One of the most attractive advantages of epoxy floors is the many options for custom colors, patterns, and designs.
Depending on your request, our floor coating company will be able to match solid colors to custom combinations of different materials. You can check out custom blends and samples before deciding the type you want to use for your flooring.
Read More about What is the best usage of Epoxy Terrazzo?
How much will it cost me to Install an epoxy floor system?
The cost of paint depends on a variety of factors. This is why you want the floor coating company to inspect your flooring system first and give you a quote before moving on to the project.
The floor coating company professional will examine existing conditions, looking at the thickness of the substrate, the current coating system, and the concrete.
Looking for additional info? Consult Us Now! Our team is glad to assist you with your specific floor coating requirements, whether commercial or residential.