Decorative epoxy floors' purposes have made it possible for designers to create an infinite number of colors and textures, next we will know more about it with OSISCO.
They're durable, decorative, affordable, low-maintenance, antimicrobial, and slip-resistant. The list goes on, but we know you're busy. So, rather than listing the advantages of an epoxy floor, we'll describe the most common types so you can make your decision.
In actuality, not all epoxy floors are made equally. There are various variations to choose from based on your budget, needs, and aesthetic interests.
To help you stand up to the floor you love, but more importantly, that can handle whatever you throw at it, here's everything you need to know about the types of epoxy floors, and which ones will work best for you.
For floors that have already been installed or with decorative flooring, color can be added to the concrete before the slab is poured.
The strength, lifespan, and visual appeal of concrete surfaces are all improved by decorative epoxy floorings. The flooring business is moving forward to creating more effective, sustainable processes both now and in the future. Three cutting-edge flooring kinds are covered in the following.
read more about Superior 12 FAQ About Epoxy Floor System
3D Epoxy Flooring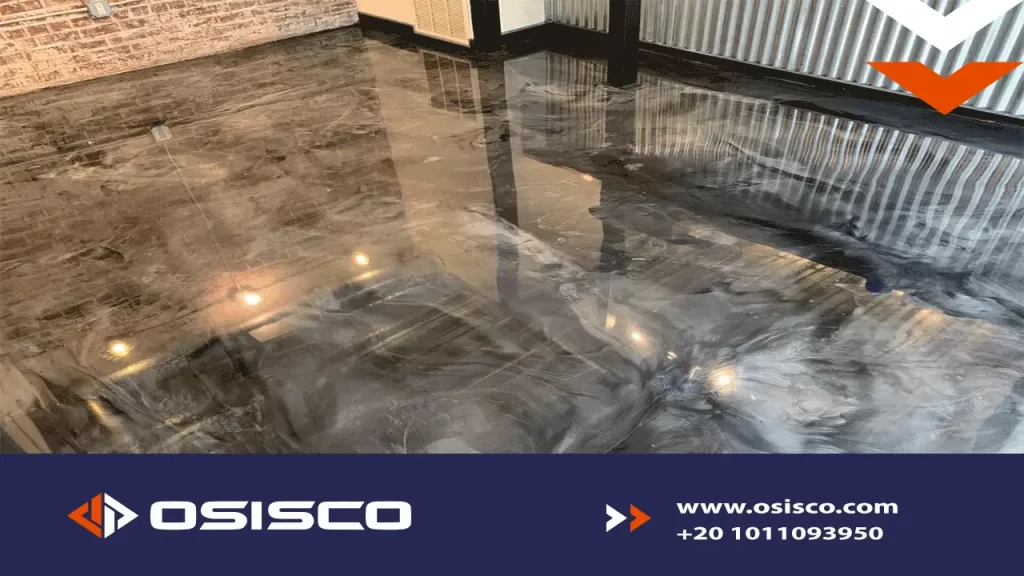 3D epoxy floors are not 3D (three-dimensional) but simple two-dimensional decorative epoxy floors. However, depending on where you are looking, the image kind, colors, application technique, and lighting impact, it is possible to produce a three-dimensional illusion.
Social media is awash in posts about 3D decorative epoxy floors. 3D floorings have caught the attention of both the general public and designers, and are now used in everything from bathrooms to living rooms, lobbies to bedrooms, and swimming pools to Jacuzzis.
They are admired for their uniqueness throughout the world. The spectacular aesthetic effect is the epoxy 3D floor's most important benefit.
Read more about Self-leveling epoxy what are its best benefits?
By selecting the ideal 3D floor pattern, color, and self-leveling epoxy coatings, you can even give the impression that the room is bigger.
It draws attention indefinitely and can aid in putting the designer's limitless imagination into practice.
The following steps can be used to simplify the installation of 3D flooring:
Surface Preparation
Epoxy Primer
Moisture-barrier system (optional)
Epoxy Leveling Layer
3-Dimensional Image
Transparent Epoxy Sealer
To get the desired look and longevity, it is suggested that the laying of 3D flooring is best left to be carried out by trained and experienced specialists.
Several important factors, including the topcoat's transparency, toughness, abrasion resistance, and clarity; the method, direction, and alignment of the 3D image concerning the room angle and lighting; the quality of the material used for the 3D image; and other materials related to epoxy flooring, all play a significant role in the outcome of the finished floor.
You can know more with OSISCO Epoxy Systems Service.
Metallic Decorative Epoxy Floors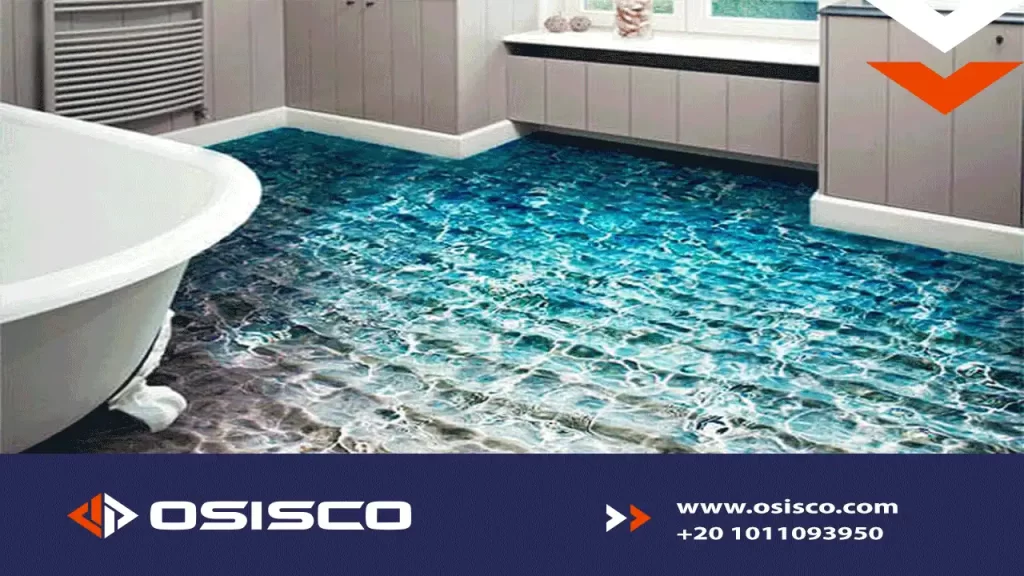 High-performance epoxy resins and premium metallic pigments have developed, making it feasible to blend colors and patterns on the floor to produce amazing effects.
From high-end clinics to multiplexes, retail stores to restaurants, villas to condominiums, and condominiums to condominiums, clients want to provide guests with a special floor-walking experience. These metallic epoxy materials can produce the most beautiful colors, patterns, and designs.
The epoxy resin is combined with the metallic pigments before being put onto the substrate or floor. These pigments aggregate, separate, twist, and turn to reflect light at various angles when they are stirred up with a paintbrush or roller.
After a while, the epoxy hardens, locking the metallic pigments into place and giving the surface a three-dimensional appearance.
Metallic decorative epoxy floors can be made to be very long-lasting, low in yellowing, smooth, antibacterial, slick, and chemical-resistant. This flooring will not only meet your performance requirements, but it will also look stunning.
Read more about Epoxy flooring | What are the best advantages of it?
Flake Epoxy Flooring
Epoxy resin and colorful acrylic chips are used to produce flake flooring, which has a lovely, scattered appearance.
There are numerous color variations available, and the finished product has increased traction, making it significantly less likely to slip.
Choose flake decorative epoxy floors if you want to add a bit extra color to the floor of your garage, cellar, or any other area.
This sort of floor is more artistic and ornamental since it includes acrylic chips or flakes that are available in a variety of colors. It results in a smooth appearance of the surface.
The multicolored flakes are added by epoxy flooring installers while the coating is still wet, giving the surface a lively appearance.
In addition to beautifying the floor, the flakes have the added benefit of making it less slippery. More grip is provided, preventing slips, trips, and other mishaps.
It makes this kind of flooring perfect for use in the kitchen, swimming pool, changing rooms, sports arenas, showrooms, and places with high foot traffic.
True decorative epoxy floors are made from a mixture of epoxy resin and hardener. When these components are mixed, they form a very hard floor coating typically at least 2 mm thick (if less than 2 mm thick, it is generally classified as an epoxy floor coating).
Read more about Metallic Epoxy What are its top benefits?
results of decorative epoxy floors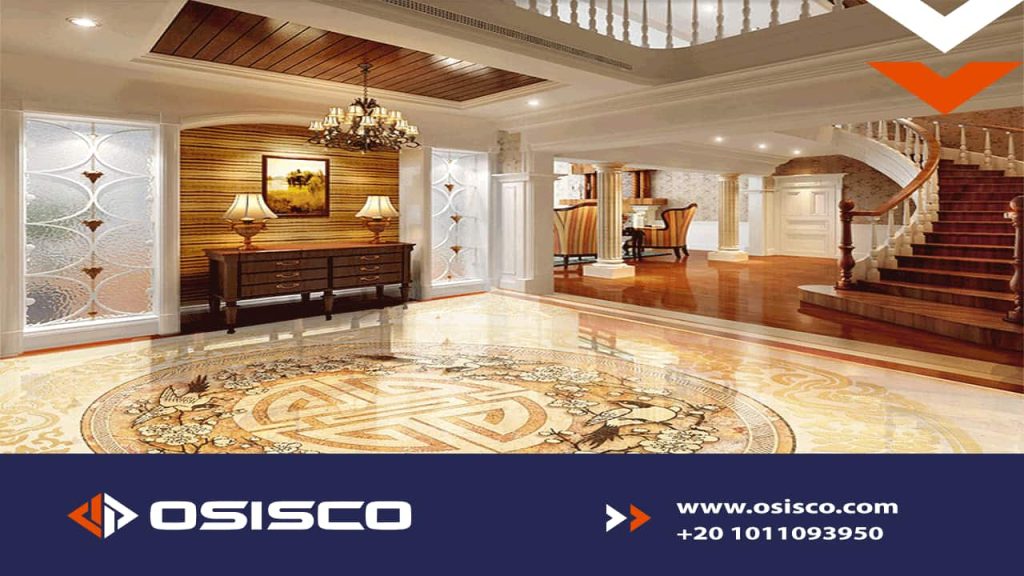 Chemical resistance even against harsh industrial and pharmaceutical chemicals
Shock resistance, which makes it suitable for warehouses and factories
Slip resistance can be ideal for hospital settings, swimming pools, or chemical labs
It's long-lasting, so you'll have a floor coating that will last for decades to come
Cost-effective since you can apply epoxy over existing floors without having to tear them up – even if they are damaged
Safe Because once epoxy floors have been properly cured, there are no harsh chemicals or safety concerns
Antimicrobial thanks to its smooth, non-porous surface and easy to clean
Read more about Concrete polishing
Decorative epoxy floors make them ideal for many commercial, industrial, and residential applications, including manufacturing facilities, warehouses, showrooms, commercial garages, gyms, other sporting facilities, locker rooms, and cafeterias.
Our decorative epoxy floors solutions provide you the design freedom to build anything that meets your aesthetic, durability, and stress-free maintenance demands.
Great corrosion and chemical resistance, low maintenance, reduced VOC and odor, and a cleaner, safer, and more pleasant work environment are all promises we make.
Our decorative epoxy floors provide limitless opportunities for innovative floor design. You may create a distinctive interior design with spectacular floor finishes by combining practically endless color possibilities with ornamental aggregates, graphics, brand icons, and logos applied in various application ways.
Read More about What is the best usage of Epoxy Terrazzo?
FAQ about decorative epoxy floors
Are epoxy floors worth it?
Decorative epoxy floors are a long-term investment that will last for years, making them well worth the time and investment. Epoxy floors have better traction than concrete and are water-resistant, which prevents slipping and sliding that can contribute to accidents and home tragedies.
Do epoxy floors scratch easily?
Decorative epoxy floors are one of the most long-lasting options available. It is chemical, stain, cracking, and scratch resistant. In addition to that, it is also the ideal choice for heavy machinery since, among other things, it is extremely durable.