Epoxy floor types are becoming increasingly popular for use as commercial and industrial floors worldwide, next we will know more about it with OSISCO..
There are a number of different types of epoxy coatings that can be used on floors including self-leveling epoxy coating, self-dispersion epoxy coating, terrazzo epoxy coating, antistatic epoxy coating, and vapor barrier epoxy coating.
Each type of epoxy coating offers distinct advantages and disadvantages when compared to others.
Epoxy floors are used in industrial and commercial buildings and as aesthetic floors in apartments. Concrete floors are coated with epoxy to create a high-performance, smooth, long-lasting surface that can sustain severe loads.
Epoxy floors are used extensively in industrial settings, warehouses, and commercial structures to maintain hygienic and secure environments for personnel, machinery, and stock.
To learn more about epoxy floor types or to determine which type of epoxy coating is best for you, please contact our epoxy floor coating experts.
Preparation of epoxy floor coating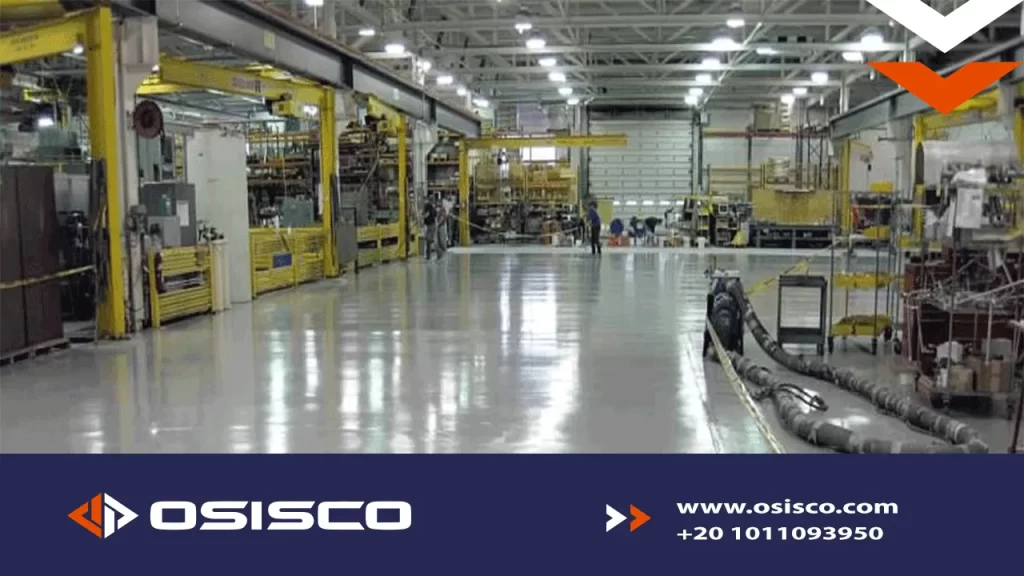 For optimal adhesion, the epoxy coating needs a smooth, slightly porous surface. On polished or sealed concrete, the epoxy may not adhere.
In addition, the curing of concrete must be finished.
It is essential to repair any large cracks and chips in the concrete surface before applying the epoxy floor coating and cleaning up any grease.
If the concrete is old, check its surface for any layers of compounds that may have been applied in the past.
read more about The Superior 3 Types of Decorative Epoxy Floors
Pour a small amount of water on the floor to check for sealant. You must suck it up. It is likely sealed and may not be suitable for epoxy coating if water beads up on the surface rather than penetrating through.
Assure the temperature is appropriate before applying the epoxy coating and adhere to all manufacturer's instructions. Non-ideal temperatures can make the epoxy bubble and flake.
Epoxy is a two-part liquid that must be mixed before use. You only have a small window once the product is mixed to apply the epoxy coating before it starts to harden.
Advantages of epoxy floor coating
Epoxy floor coatings offer several advantages when compared to other traditional coatings applied to concrete:
Brightens interior spaces by producing a dazzling high-gloss surface.
Offers a tough surface that can withstand constant use and heavy traffic.
Installation is quick, requiring no specific tools or equipment, design, or cutting for additional adhesives.
Strong and easy to clean
Resists water and grease stains
Produces a smooth surface that can last for a long time.
Used with paints and colors to cover cracks and chips
Gives a chemical-resistant surface, which makes it ideal for manufacturing facilities
Provides additional safety when anti-skid compounds are present on the surface
Used in various styles to make walkways visible and/or mark places where people can walk.
Protects existing concrete floors from deterioration
Depending on the product, it may be compatible with self-leveling materials that can be used on fresh or old concrete.
read more about Superior 12 FAQ About Epoxy Floor System
Epoxy Floor Types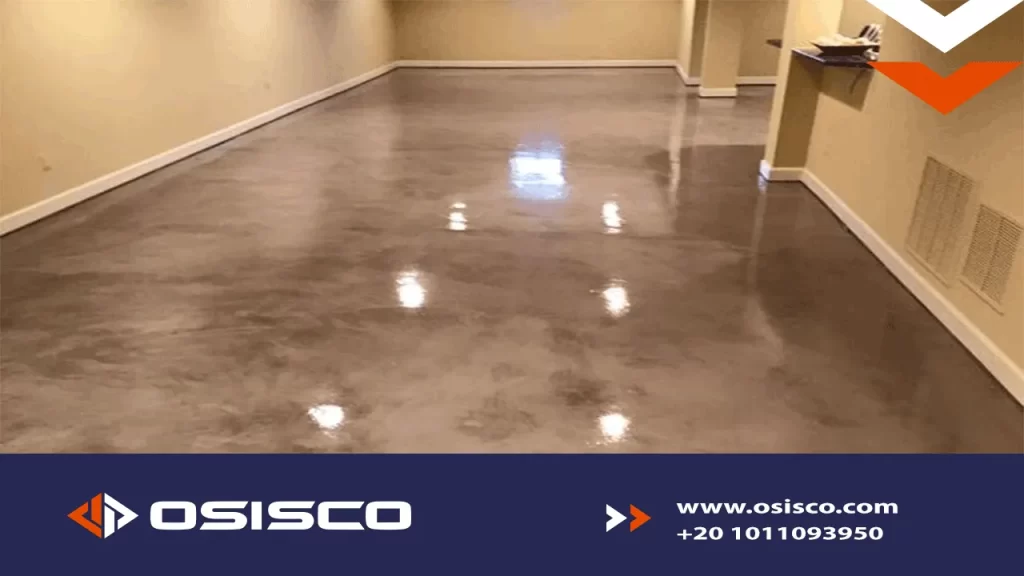 Different epoxy floor types can suit your needs, whether you need floors for a factory, healthcare center, school, university, food and agricultural facility, or other commercial establishments. The various epoxy floor types are covered here. The following are the 9 Most Preferable Epoxy Floor Types.
Epoxy mortar coating
Epoxy mortar coating is the strongest type of epoxy flooring. In addition to being frequently used in heavy industry applications, this type of epoxy coating can also be used to seal cracks before other types of epoxy floors are installed.
It is composed of the graded sand or quartz sand and hardened epoxy. Areas need highly chemically resistant floors and can withstand significant impacts, mortar systems are ideal. This epoxy floor can be used to repair cracks before applying another type of epoxy floor.
Self-dispersion epoxy floor
It is frequently used in locations with a lot of forklifts or heavy truck traffic due to its excellent mechanical strength. It can be used with quartz sand to increase durability.
Due to its effective anti-slip properties, this type of epoxy coating is frequently used in food processing industries and other environments where liquids spread. Self-dispersion epoxy is among the strongest epoxy floor types.
Produces a very smooth surface that hides cracks or imperfections. In addition, it provides a strong and attractive floor. Self-leveling epoxy coating is one of the top epoxy floor types.
Epoxy floors are frequently found in manufacturing facilities, office buildings, showrooms, and warehouses. This type produces a smooth, continuous surface, making it easy to install on old and new concrete floors.
Read more about Epoxy flooring | What are the best advantages of it?
Graveled epoxy coating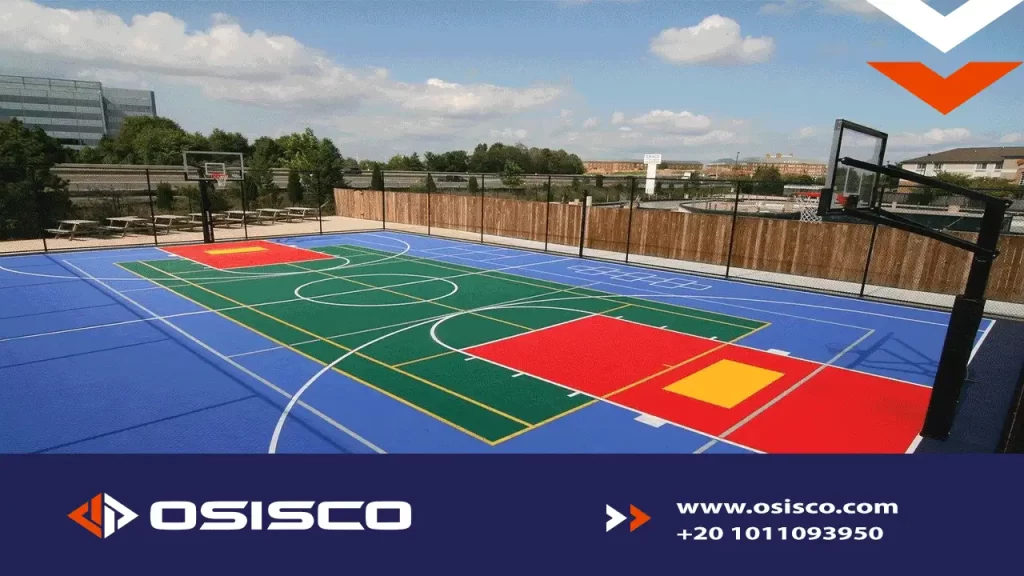 Can be used for both decorative and aesthetically pleasing options, graveled epoxy floors provide colored chips that give the appearance of pebbles. It can be a bargain option if you want a brand or logo on the floor. They used to add logos, branding marks, and decorative details.
It consists of different formulations of epoxy resin or concrete and pieces of aggregate such as marble or stone. It can be cast as concrete or set into tiles, and it can be used both inside and out.
These are typically used in large areas such as hallways and entrances in educational institutions, workplaces, and commercial structures.
Antistatic epoxy floor coating
Where electrostatic-sensitive electronic components are too used continuously, a dedicated epoxy coating is used.
By properly dispersing the electrical charge to the ground, it stops the buildup of harmful electrical charges from damaging sensitive components or parts.
Static dissipation floors, otherwise known as anti-static floors, protect people from electrostatic discharge as well as sensitive electronic equipment (ESD).
Read more about Metallic Epoxy What are its top benefits?
To disperse any potential static discharge, antistatic resin floors often include a conductive material that collects static electricity and must be grounded or grounded.
When working with explosive gases and liquid components, floor coverings can also help prevent explosions and fires, reducing the risk of damage to expensive equipment and injury to workers.
Vapor barrier epoxy floor coating
Used over concrete floors to create an impenetrable surface that virtually eliminates vapor transmission. Often a finished flooring surface, such as hardwood floors, carpet, tile, and vinyl planks, is added before this coating.
The answer is an epoxy coating with a vapor barrier when moisture control is needed, or no vapor transmission is required.
Epoxy flake floor coating
The colored chips mixed with the resin produce an attractive visual result. Many industries, including the healthcare sector, commercial kitchens, and more, use epoxy flake floors.
To give it a beautiful appearance when finished, multi-colored chips or flakes are added to the paint while it is still wet.
Read more about Concrete polishing
Quartz-filled epoxy floor coating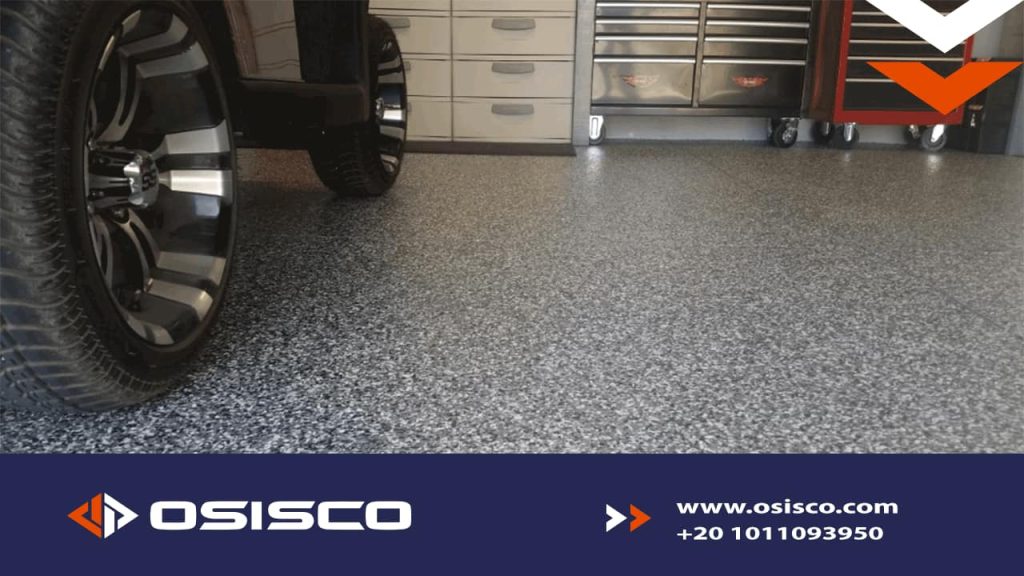 It consists of colored quartz grains mixed with a high-performance epoxy polymer resin. It can be used to create an anti-slip surface, as a decorative element, or even as a bonding agent.
Many schools, cafeterias, lobbies, companies, and showrooms use quartz-filled epoxy floor coating.
Epoxy flooring is a flexible chemical solution that can fit any space and is durable, highly impact resistant, and adaptable. Whether you need an elegant entrance for a restaurant or a stable surface for industrial activity.
If you've considered the benefits of epoxy floor types and want to use the technique in your garage or basement, a crew of experts can install your new, protected, polished surface. Discuss specifications in style and design of epoxy floor types with our seasoned experts.
read more about The Prominence of Flooring Systems in Food Industry
FAQ about epoxy floor types
Do epoxy floors need maintenance?
It depends on different epoxy floor types. Epoxy flooring requires less care on a daily basis. They don't require a lot, but a regular sweep and cleaning should be included in the cleaning schedule. By cleaning any little particles, you will preserve the floor scratch-free and prevent wear and strain.