Terrazzo floors, with their mosaic style of chunks of marble or granite in polished concrete or epoxy resin, are known for their remarkable flexibility and durability. So it's no wonder that this method has been around for centuries.
With proper care during installation and use, it is also possible for terrazzo floors to last for decades. There are terrazzo floors installed in the early 1900s that are still nice-looking jobs. The style is known to some as "forever floors," a reference to its history and longevity, next we will know more about it with OSISCO.
Terrazzo floors consist of composite materials. It contains a variety of aggregate chips such as stone or marble and either epoxy resin or concrete.
It can be used indoors and outdoors and can be poured as concrete or laid with tiles. Initially used mainly in commercial buildings, it is becoming more popular in homes, not only as flooring but also as a material for kitchen surfaces such as countertops and backsplashes.
Colors and spots are customizable, allowing for a wide range of design possibilities. Terrazzo floors are relatively light and durable when they come out.
Advantages of terrazzo floors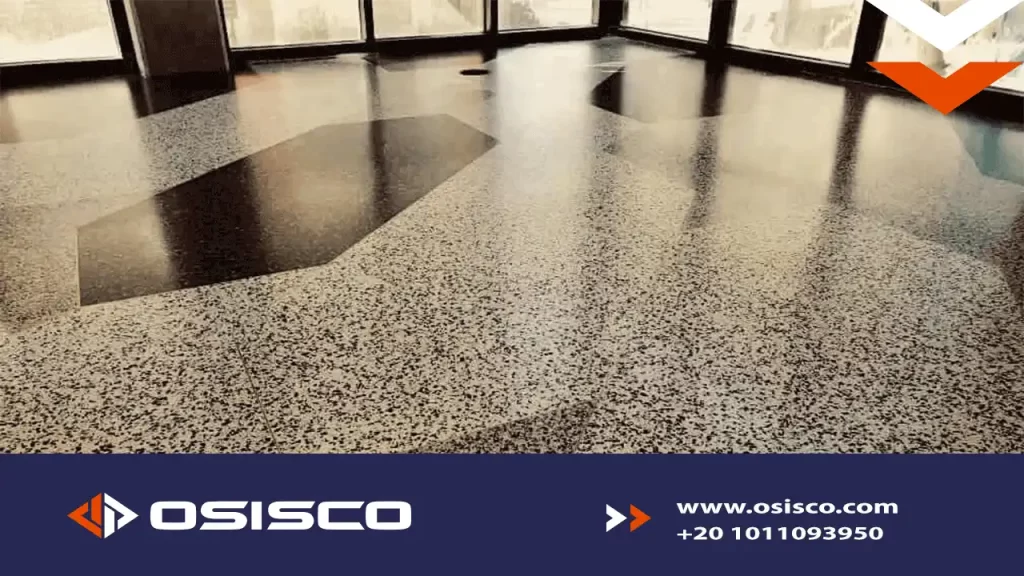 Terrazzo floors are among the easiest to clean: there's no scuffing, slicking, or scrubbing involved.
Terrazzo flooring provides virtually endless customizable options.
The mottled texture and strong base material make it difficult to smudge.
When properly sealed, terrazzo floors are non-porous and mold resistant
Because it is made of durable materials such as cement, terrazzo is extremely durable, which is why it is often used in institutional and commercial buildings.
Elegant and timeless, with endless design possibilities.
Low maintenance costs and long life cycle.
Terrazzo is VO.C. compliant.
Excellent chemical resistance and less maintenance cost than any other solid surface flooring.
Better color consistency and performance.
Faster treatment and faster turnaround allow for high productivity.
On-site applications ensure an even surface and save space, time, freight cost, etc.
Terrazzo floors can last the life of a building and thus contribute to the green building essence.
Terrazzo floors are known to offer better slip-resistance properties.
read more about What are the 9 Preferable Epoxy Floor Types?
Types of Terrazzo Floors
With a new direction, we see new technologies, and today resin systems are revolutionizing the design, installation, and use of terrazzo surfaces. The two main options to consider are epoxy-based terrazzo and cement-based terrazzo.
Today, epoxy terrazzo is the most widely used system, and you may have seen it in the main lobbies of corporate institutions, airports, and healthcare facilities.
The thickness of this system is 1/4″ or 3/8″. Despite its thin size, it is the most durable of all terrazzo systems and is recommended for use in high-traffic building areas. It can be referred to as thin or resinous terrazzo floors.
The advantage of epoxy terrazzo floors is their faster application. Using an epoxy matrix to bond the aggregate allows for a fragile floor system that creates a smooth, luxurious floor finish.
This system can cure overnight and be ready for polishing the next day, allowing for faster project turnaround. This application speed is ideal for crowded malls.
From a building construction viewpoint, installers can complete an epoxy terrazzo project significantly faster than cement terrazzo.
Could be used on prepared surfaces such as concrete and plywood. The sole disadvantage is that it is not suitable for use in outdoor applications. It is particularly suggested for interior applications.
Cementitious terrazzo
This type of flooring uses a cement matrix and describes multiple terrazzo systems, including sand cushion systems, bonding systems, rustic, monolithic, and polyacrylate systems. It is best suited for exterior and renovation projects.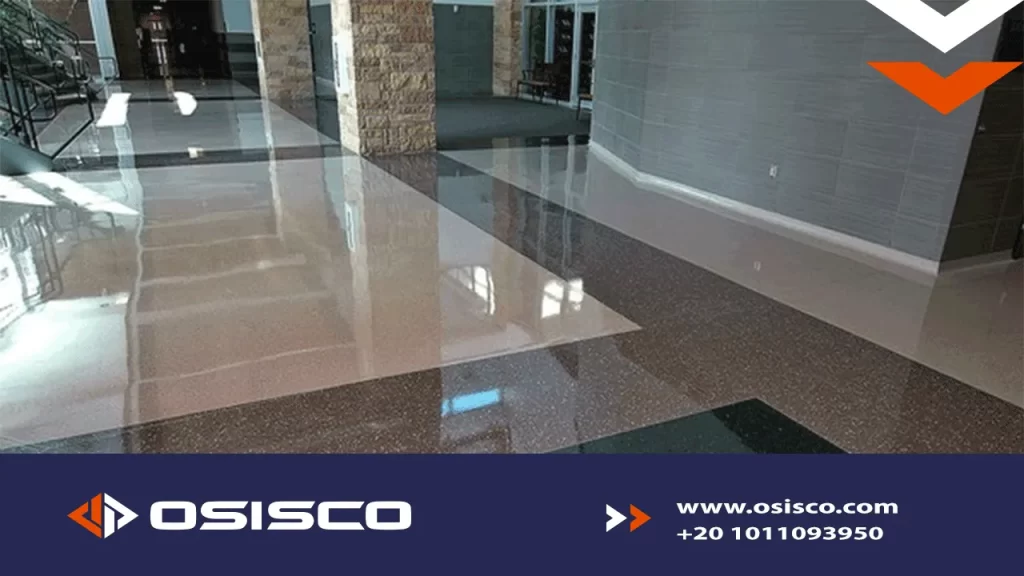 Cement terrazzo floors are the laying of aggregates in cement. Compared to epoxy terrazzo floors, cement terrazzo is denser and thicker making it the ideal choice in some applications.
Cement terrazzo floors come in various intricate patterns with varied color choices and neutral tones. This type of terrazzo is heavier and can endure a higher impact.
read more about 7 Tips for Maintaining epoxy floors like brand new
Cementitious terrazzo floors are durable and resilient and will last for many years with minimal maintenance.
The cemented terrazzo floor is suitable for interior and exterior applications and will thrive in high exposure to ultraviolet light.
Terrazzo flooring application
Terrazzo installation includes both bonded and unbounded methods. Bonded systems include under-bed bonded, monolithic, chemically bonded, and the newer thin-set method (epoxy resin).
Bonded terrazzo is applied over a sand-cement mortar below the layer which is placed on top of a concrete slab. The sand cement layer allows changes in the precast concrete slab to which it is installed.
Monolithic terrazzo is applied directly over a very flat, high-quality concrete floor. Thin terrazzo does not require a concrete floor set. Alternatively, a flexible membrane can be installed so that cracks do not appear on the surface.
Unbounded includes the sand pad method that uses wire reinforcement, an insulation sheet, and sandblasting that absorbs any movement of the concrete slab.
Why consider new buildings and renovations epoxy terrazzo?
performance: There are many durable flooring systems architects can review for their building space but none can match the long-term performance and aesthetics of an epoxy terrazzo floor. If maintained well, your terrazzo epoxy floor will look amazing decades from now.
Ancient buildings have documented how well terrazzo has stood the test of time. The timeless floor can withstand daily foot traffic for years or support well against natural disasters such as hurricanes, hurricanes, and floods.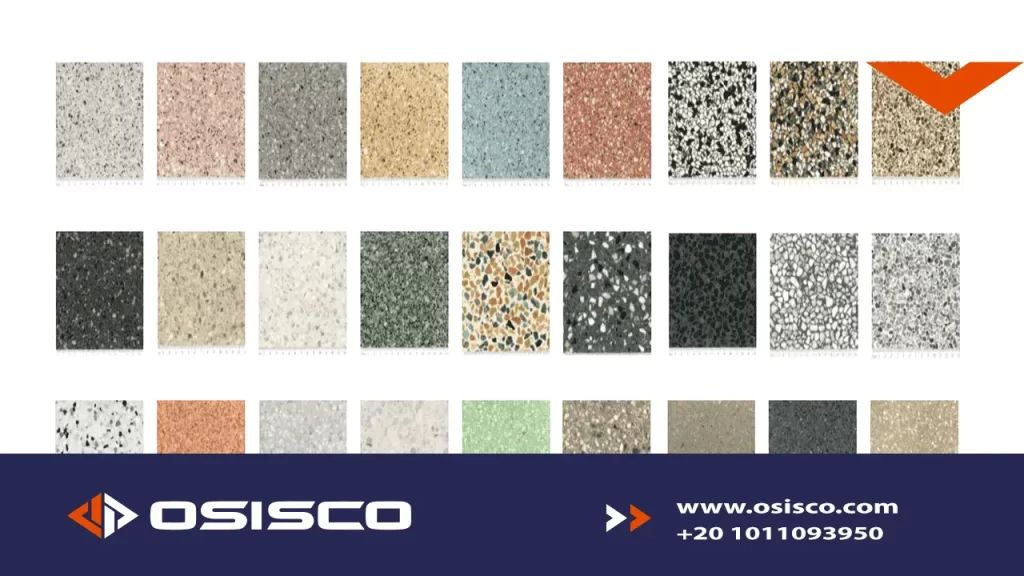 Terrazzo works well for the following reasons:
Epoxy Resin: After the introduction of epoxy in the 1970s, the terrazzo material has evolved to be thinner and stronger than ever before. When poured into place, the epoxy bonds together to form a smooth surface.
read more about What is the best concrete polishing machine?
Compared to cementitious systems, epoxy terrazzo has shown greater advantages in terms of overall compressive and tensile strengths, color control, flexibility, and stain and chemical resistance.
Lightweight: Epoxy terrazzo is extremely thin (3/8′′ or 1/4′′ thick) when considered with other flooring options, yet it is the most resistant and durable. The thinnest epoxy terrazzo is lighter in weight, making it suitable for use in multi-story buildings or elevator cabins. The system's power works well even in the most demanding settings.
Low Maintenance: Taking measures to clean your terrazzo regularly will keep the surface in good condition for decades. The terrazzo floor cleans quickly and easily removes dirt and debris tracked into the building.
The thickness of the layers and the curing time will vary depending on whether you will use epoxy or terrazzo cement.
Conclusion
Terrazzo ranks as one of the most economical and environmentally friendly types of flooring available. It is regarded as the first of the "green" floors since its construction in the 15th century.
Terrazzo resists water damage, fire damage, chemical spills, and other stain hazards. You need expert supervision to install this type of flooring and choose the ones that serve the purpose of your project.
read more about Ultimate Overview of Epoxy Floor Coating Significance
FAQ
Is terrazzo floors expensive?
Although terrazzo may initially cost more than some other flooring alternatives, over time it becomes more affordable. Terrazzo is a wonderful alternative, especially for high-traffic zones, because it needs fewer repairs and less upkeep than materials like carpet or tile.
The following variables affect total project costs: the project's total square footage, utilized materials' types, the project's location, and the intricacy of the design.
What is a terrazzo floor made of?
Terrazzo is a type of flooring that was made by exposing the concrete's surface with marble strips and then polishing it until smooth. Terrazzo is now, however, available in tile form. Because it is durable and versatile, it is widely utilized in public structures.
How long do terrazzo floors last?
Terrazzo floor often outlives any building construction, as may be seen in structures that are more than a century old. When properly maintained, an epoxy terrazzo system that has been placed in situ can endure up to 100 years.